Restoring Data
Backup Agent for Windows allows users to restore backup data.
There are several ways to perform a file-level restiore using Backup Agent:
Run Restore Wizard if you want to restore specific files and folders
Restore your data from the Backup Storage tab
Restore files related to a specific backup plan from the Backup Plans tab.
Run Backup Agent, then log in with email and password of the user account you want to restore files from.
Open the application menu.
Select the required storage account.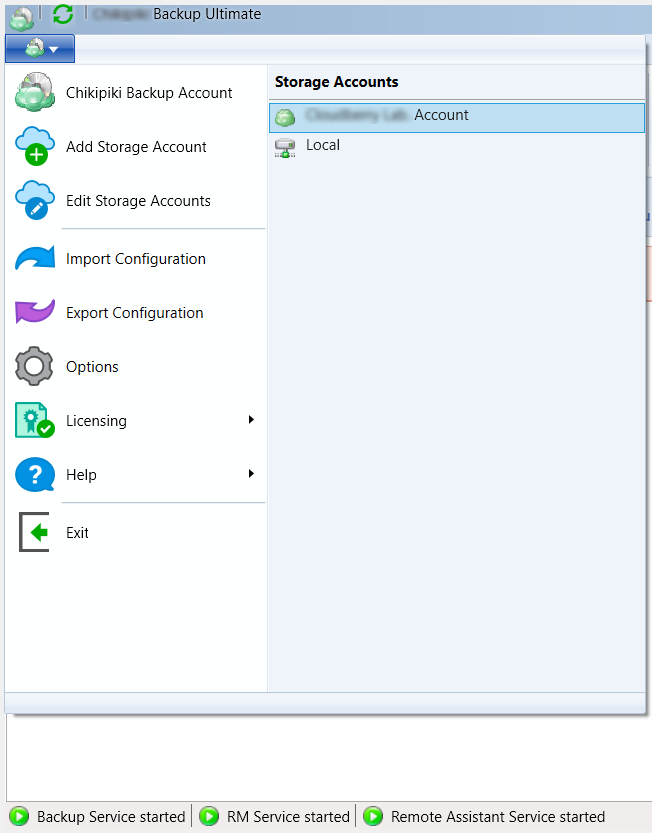 In the Storage account property box, click Advanced Settings.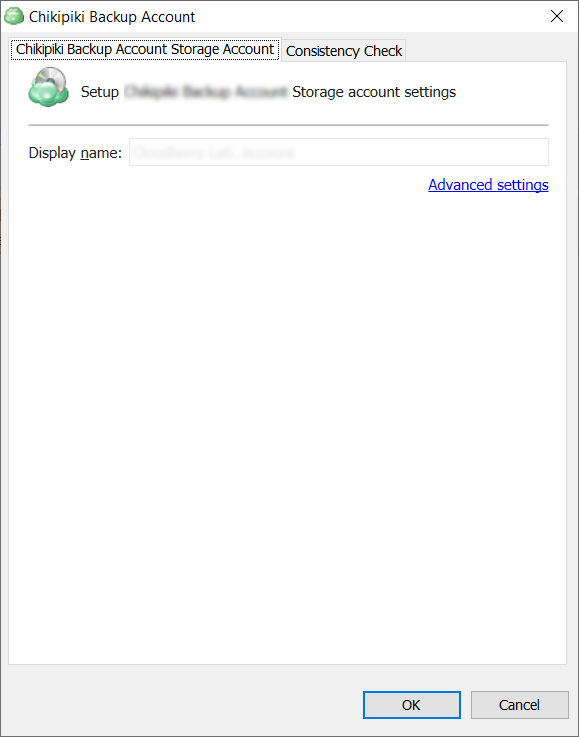 In the Advanced Settings property box, select one of the following options:
Regular mode. This mode allows to perform backup and restore operations.

Backup prefix. Specify the backup prefix for backup content. This prefix is an identifier of your data in case you use shared bucket with other users. By default, the prefix is your computer name and -PC suffix. For example, COMPUTER1-PC

Restore only. Select this option to perform just restore jobs from this storage account.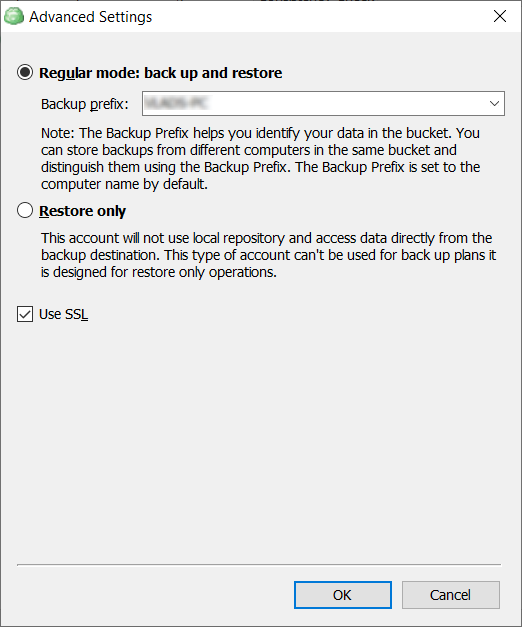 To use SSL protocol, select the Use SSL check box
Click OK.
Restore Data Using the Backup Storage Tab
Switch to the Backup Storage tab.

Step 2. Here you'll see the list of files and computers applied to your account. It may be several computers using the same user account.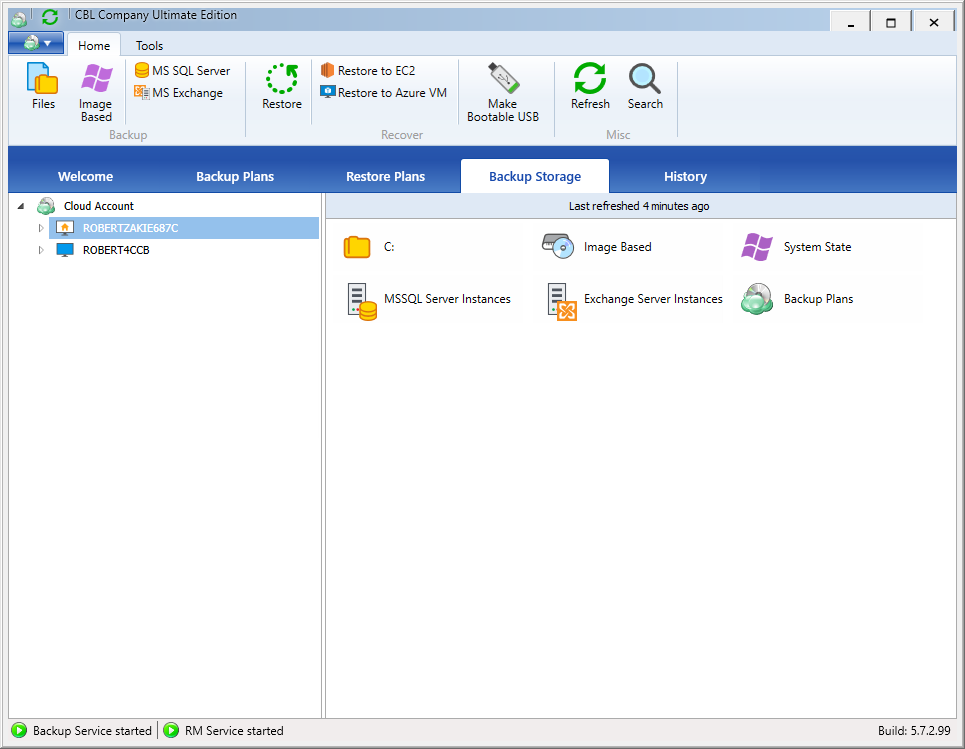 Step 3. When all the required files was located, just right-click on any of them and click Restore .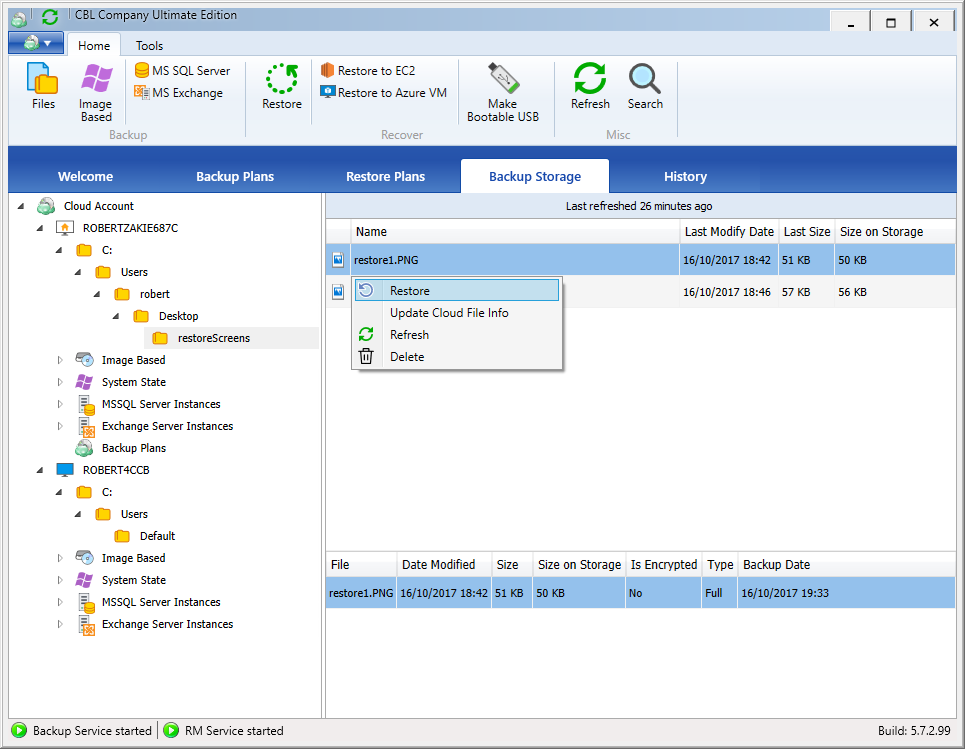 Step 4. On the Plan name step, specify whether you want to save this configuration as a separate restore plan or to use it once. Give your plan a name if you want to save it, then click Next".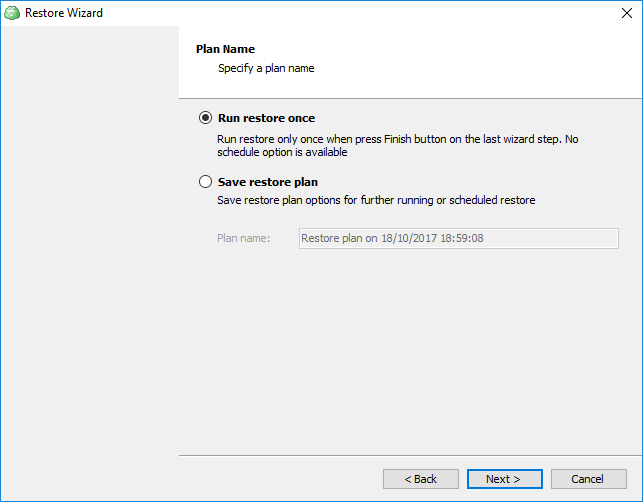 Step 5. On the Restore Type step, choose version of the files you want to restore. Available options are:
Latest Version. Choosing this option will automatically restore the latest version of selected files.
Point in time. You can specify a date and time of the files' version to restore. If there is no version of such date and time, the restore will not run.
While selecting the requisite restore date of your files, you can now specify the modification and backup period. The modification period indicates that only files that were modified within that period will be restored. Similarly, specifying the backup period will ensure that only files that were backed up throughout that period will be restored.
Manually. Make manual selection of files' versions you would like to restore.
Choose the preferred option and click Next button.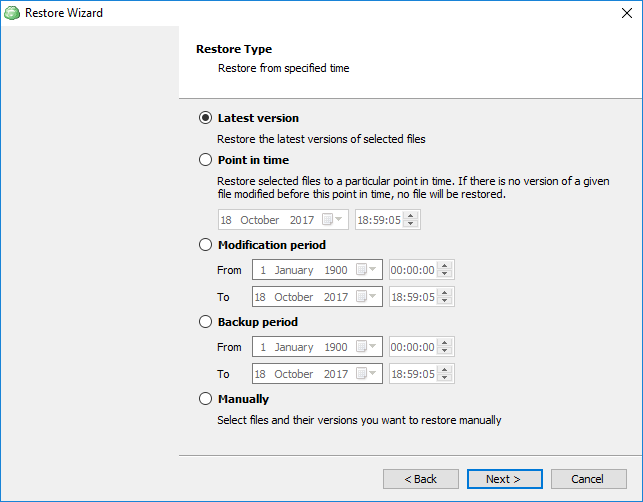 Step 6. On the Destination step, specify local folder on your computer where the restored files will be saved. There are couple options available:
Restore to original location. If you choose this option your files will be restored to the location where they were originally kept
Restore to specific location. This option allows you to specify a local folder on your computer in which the restored files will be saved. You can also set up this location as a default destination for future restores. Also there's an option to overwrite existing files in the local storage.
When you're finished with a restore destination configuration, click Next to proceed.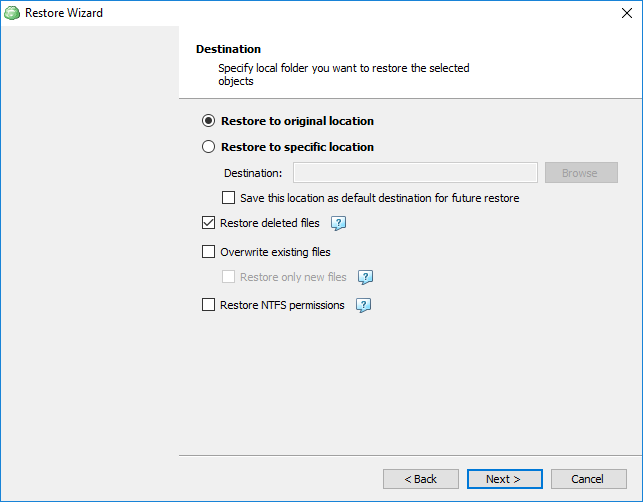 Step 7. On the the Encryption Options step, enter a password to decrypt selected files, if they are encrypted.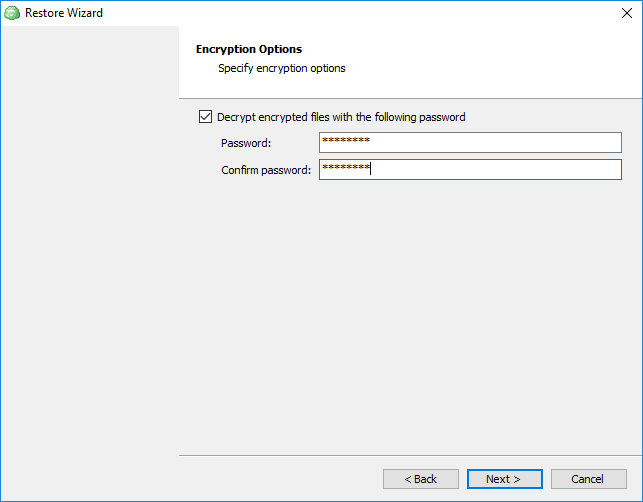 Starting from Management Console version 5.0, pre- or post- actions for Backup Agents can be restricted by provider. To learn more about the pre-/post action settings, refer to the Global Agent Options and Companies chapters
Step 8. Review restore settings on the "Summary" screen and and click Next.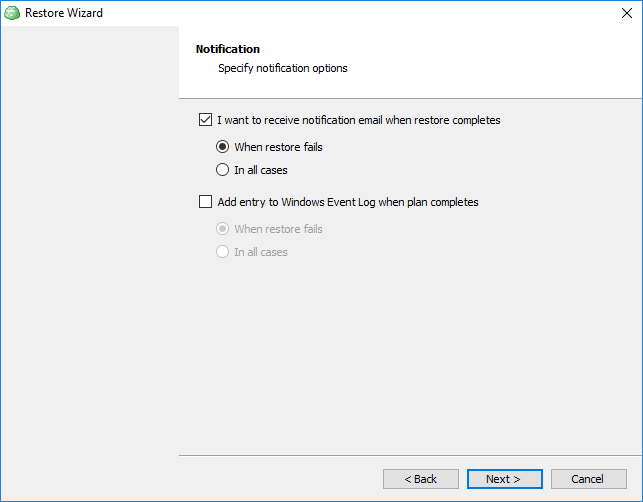 Step 9. Click Finish to start the restore.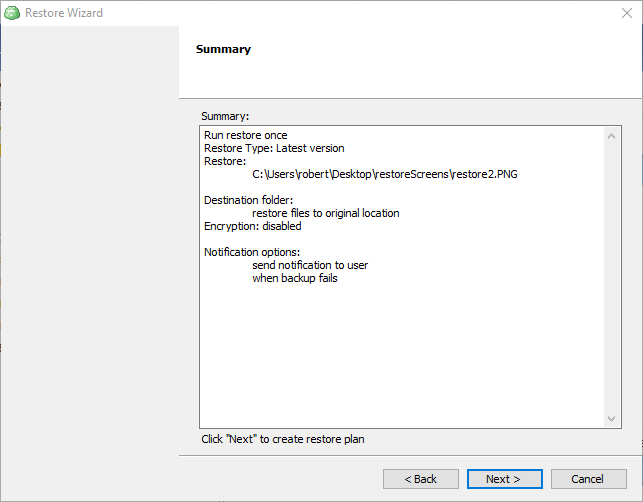 If you've done everything correctly, the restoration will begin. You can watch the restoration progress as shown on the screenshot below.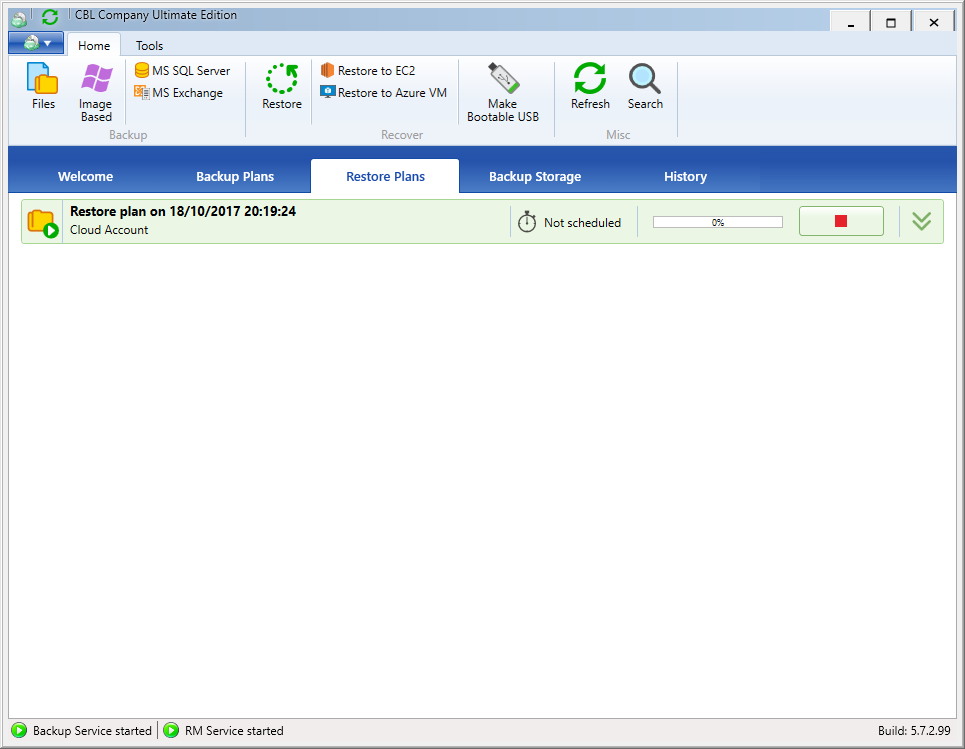 Restore From the Backup Plans Tab
You can restore from "Backup Plans" tab only if you got previously configured backup plan their.
Step 1. Click on the "Backup Plans" tab. Select the plan for which you want to run a restore process. Expand the selected plan to view its properties.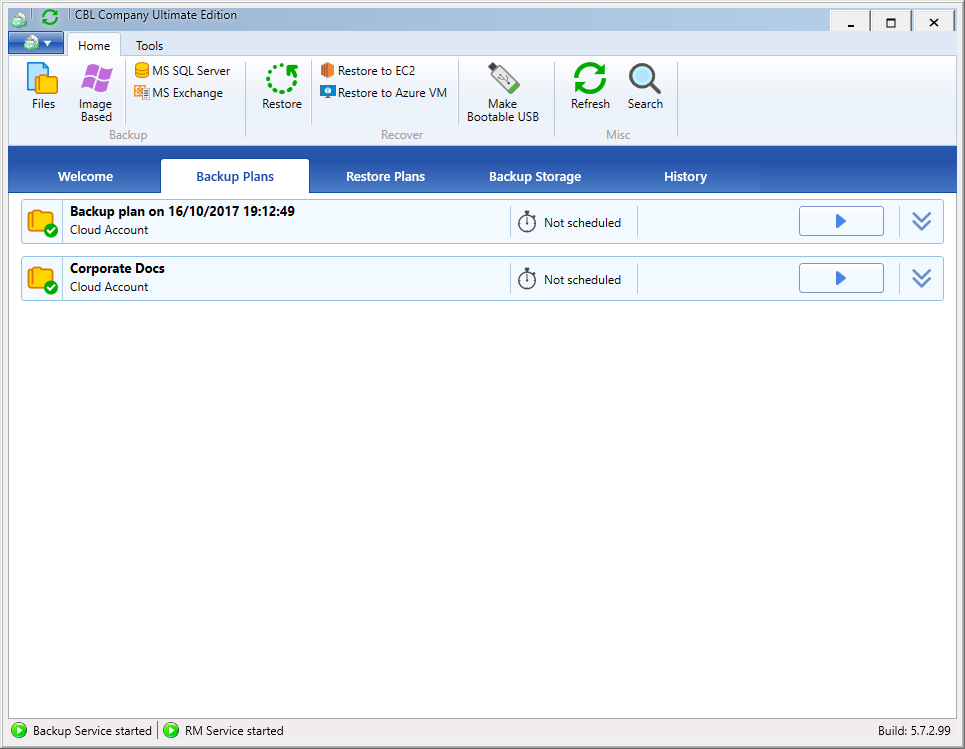 Step 2. Click on the "Restore Files" link to launch the Restore Wizard.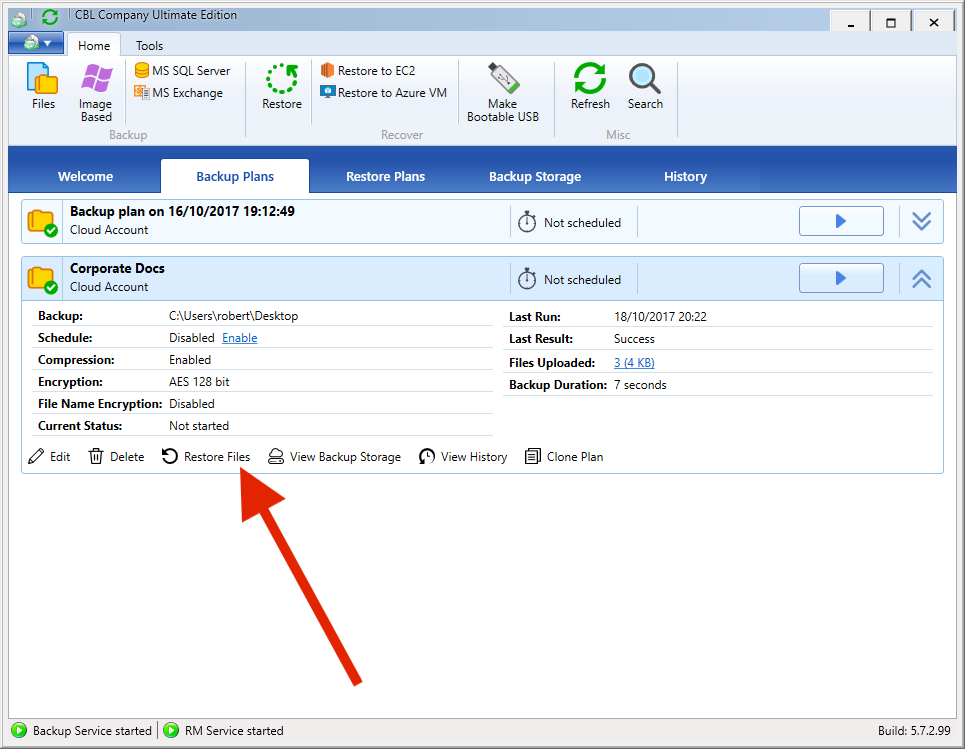 Step 3. The Restore Wizard will appear. The following steps are identical to those from Step 5.