Restore Image to Azure VM
This article explains how to:
Restore Using Management Console
Management Console offers a full cloud restore functionality that enables to restore of image-based backups to Microsoft Azure and Amazon EC2.
If you need a hot PC replacement based on an image-based backup in Azure storage, MBS Management Console can do that for you in just a few simple steps. Consider, the procedure varies depending on the target service (EC2 or Azure) and the type of data source (image-based backup or snapshot). This section, however, only demonstrates how to restore image-based backups to Microsoft Azure and also explains the related technical details.
Restoring Image-based Backups to Microsoft Azure VM
First, make sure you have a sufficient storage destination (Microsoft Azure VM) available. In case it is not, create a new storage account. To learn more about creating a storage account, refer to the corresponding paragraph of the Create and Manage Storage Accounts chapter.
Open the Management Console.
In the RMM menu, select Restore to Cloud.
Click MS Azure Restore.
Here you can choose to restore your image-based backup to either Amazon EC2 or Microsoft Azure. Click Add Azure Restore.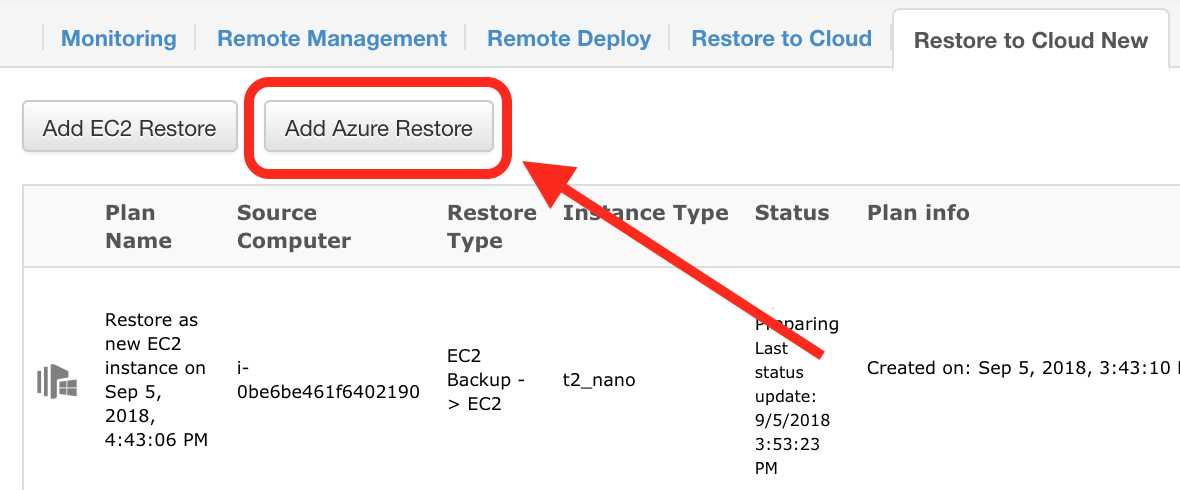 Restore Wizard starts. Restore Wizard includes all steps you need to take in order to perform a restore.
On the first step specify data source parameters for the restore plan:
Plan Name. The plan name that will appear on the Management Console and in Backup Agent instance during plan execution.
User. Select the user whose storage account contains the data.
Destination. Select the storage account that contains the data.
Computer. Select the computer whose data is to be restored.
Point in Time. Select the image-based backup version that is to be restored. Click Next.
In fact, you can even select an image-based backup that is not stored in Azure — it makes no difference whatsoever.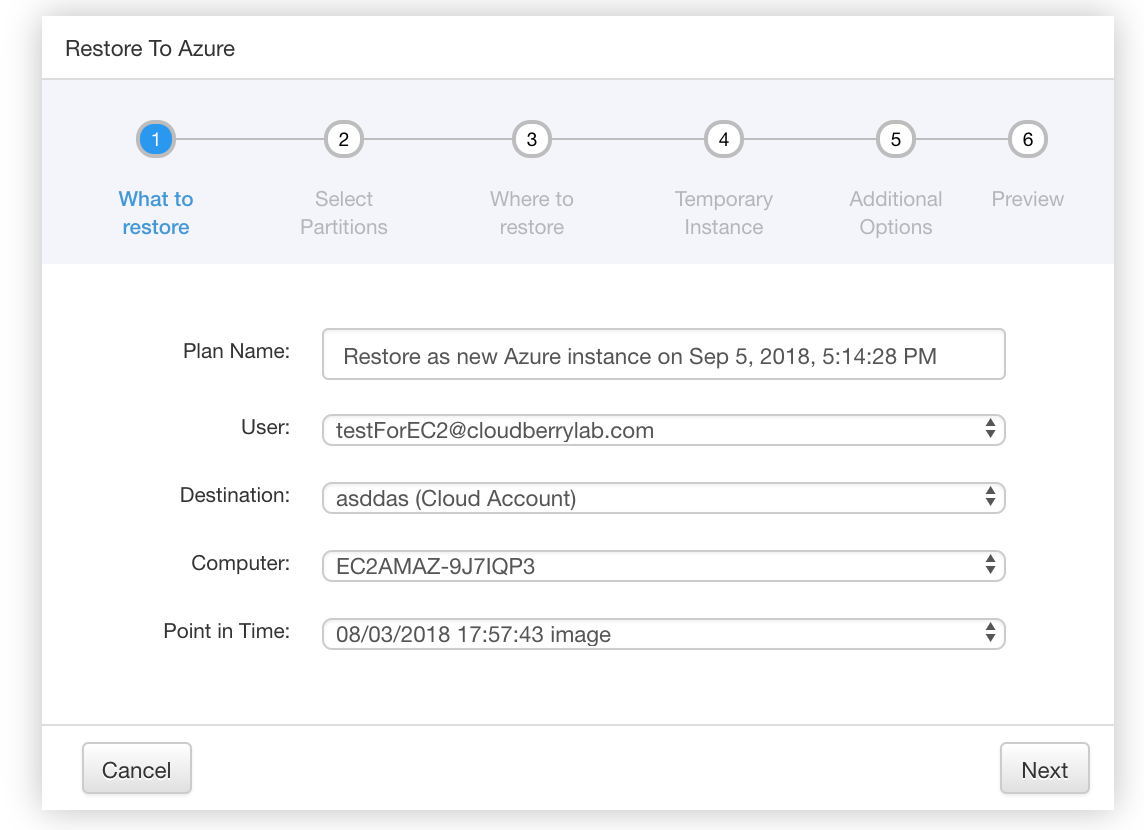 In the second step, you need to specify storage disk partitions that you want to be included during restore. When done, click Next.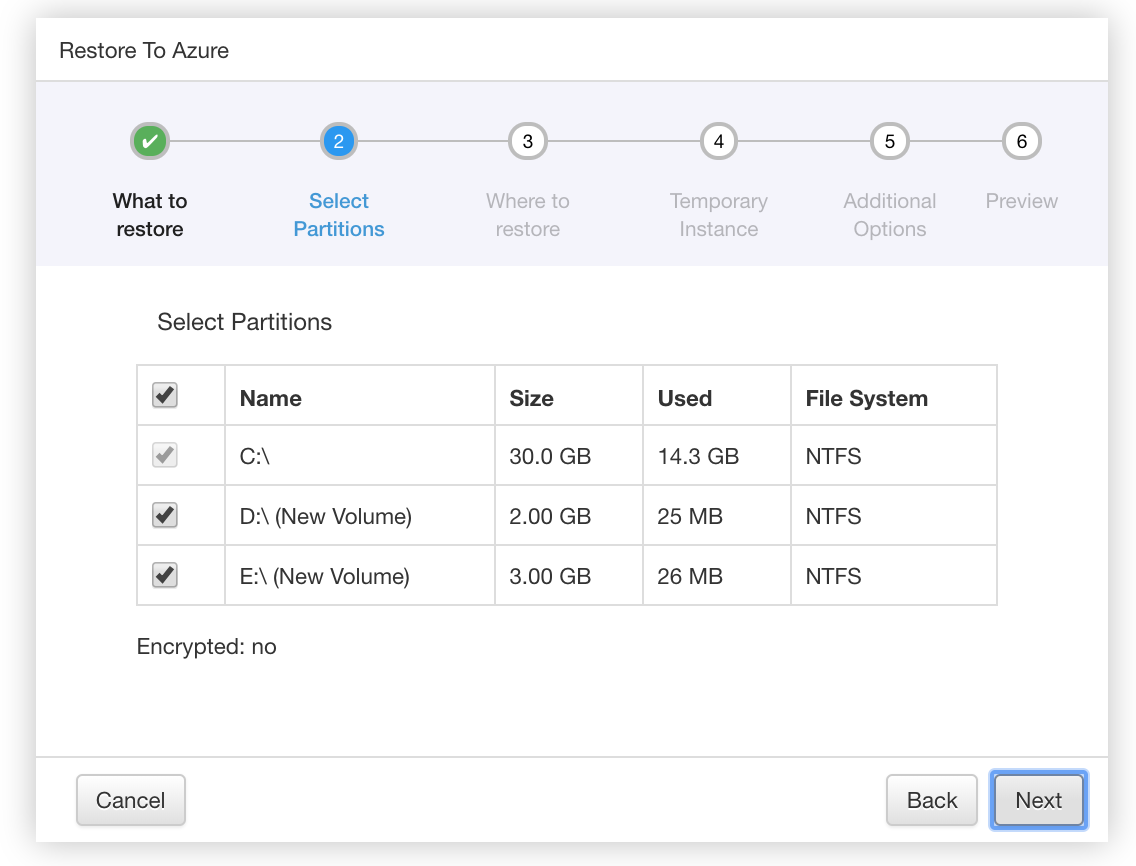 In the third step you need to specify the target instance parameters:
Azure Account. The account under which a new Azure VM instance will be stored.
Computer Name.
Location. The region that is to store the newly created Azure instance.
Resource Group. Azure Resource Group.
VM Size. Select the required VM size that meets your requirements in terms of cores and RAM.
Network.
Subnet. Select one of the available subnets.
Storage. Select your Azure storage.
Container. The Azure container is to store the Azure VM.
Boot Diagnostic Storage. Select the storage where you'd like to place diagnostic files. You can leave this option disabled.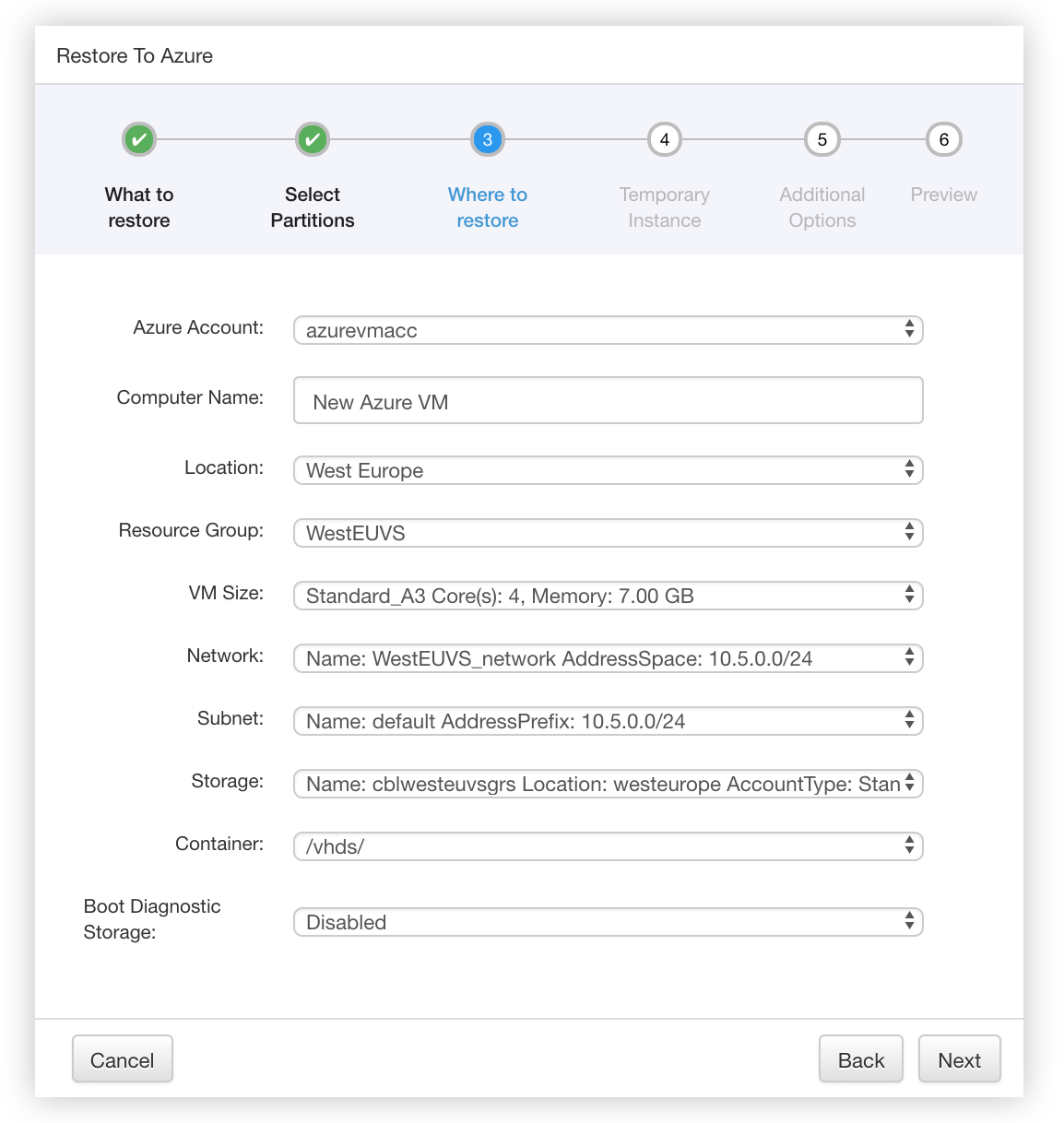 In order to perform restore properly, MBS needs to utilize a temporary Azure instance. And on the next step, you need to configure the parameters of said instance. MBS automatically copies the values from the previous step; if you modify these values, ensure that the resulting virtual machine has sufficient capacity and permissions.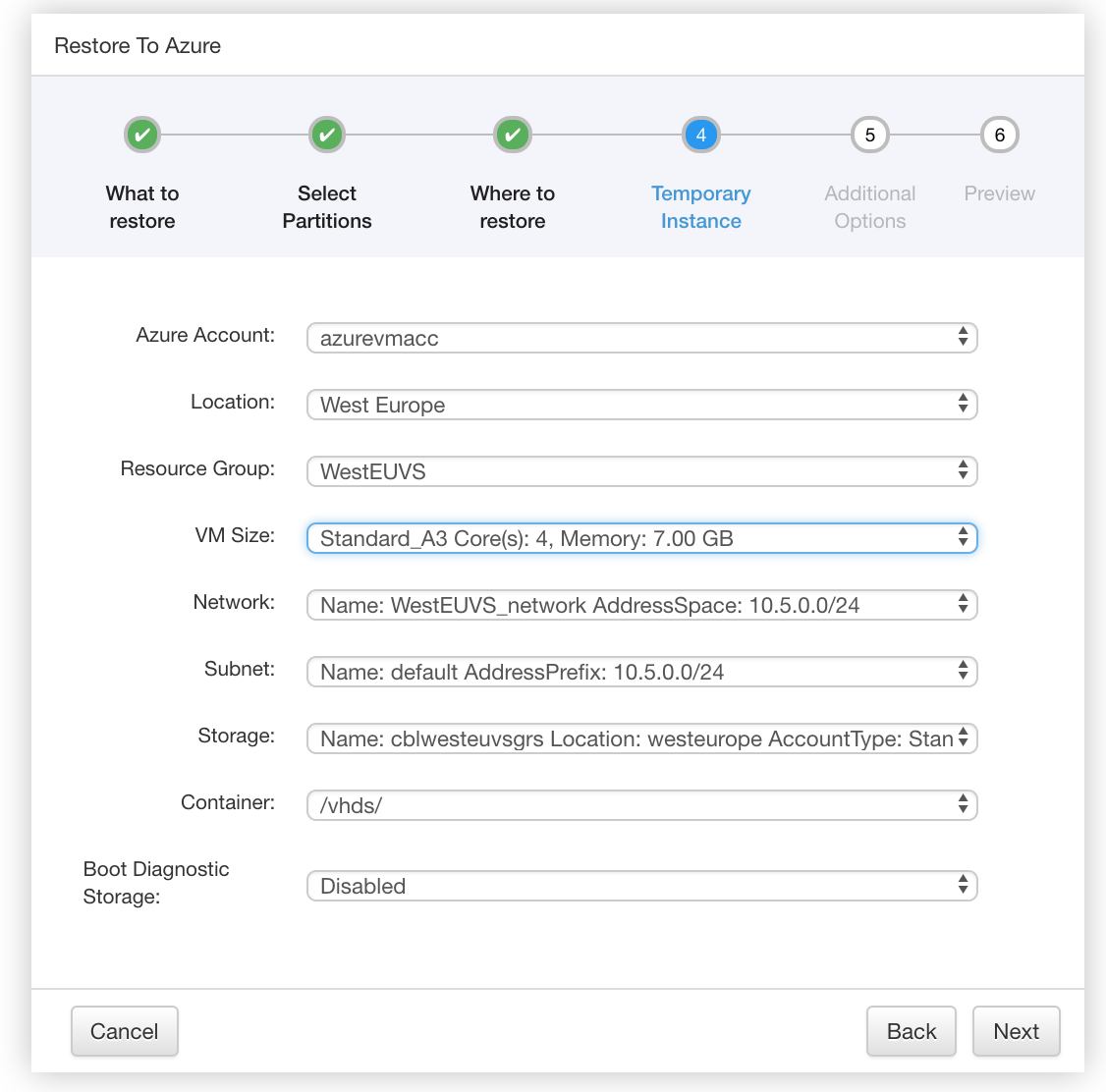 In the next step, you can specify additional options like decryption password.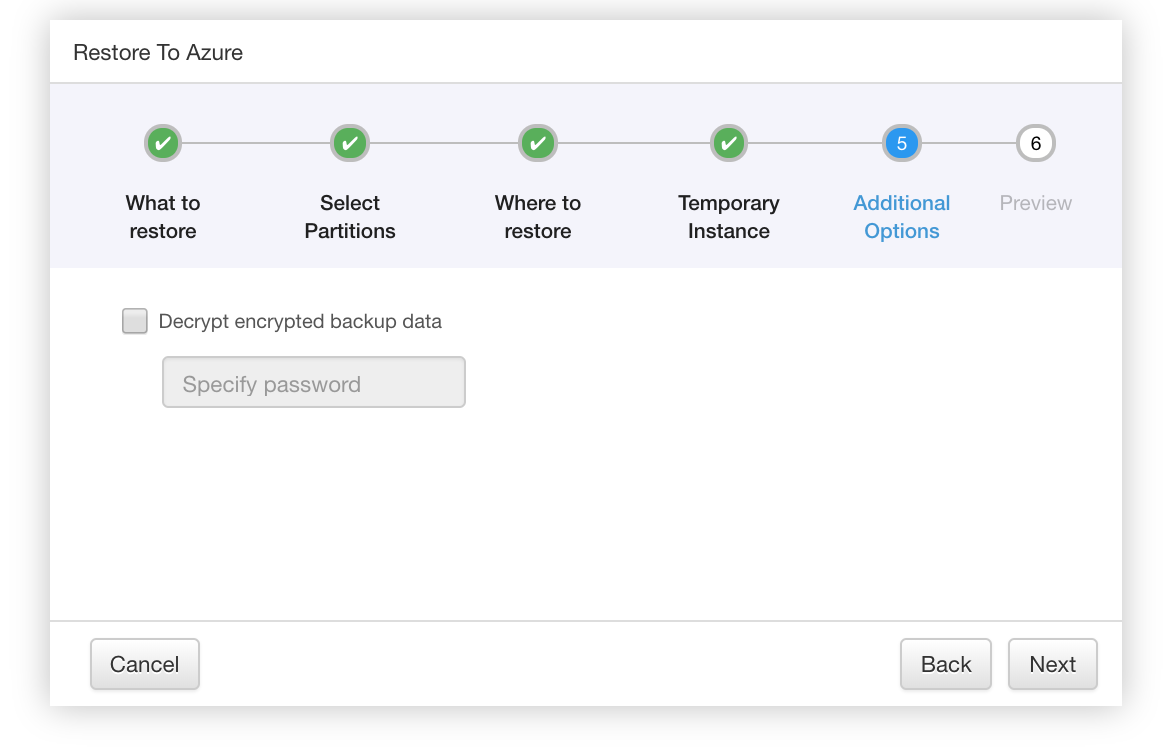 The last step is a preview. Review all of the information you've specified in the last four or five steps, ensure that it's accurate and click Save and Run to start restore job.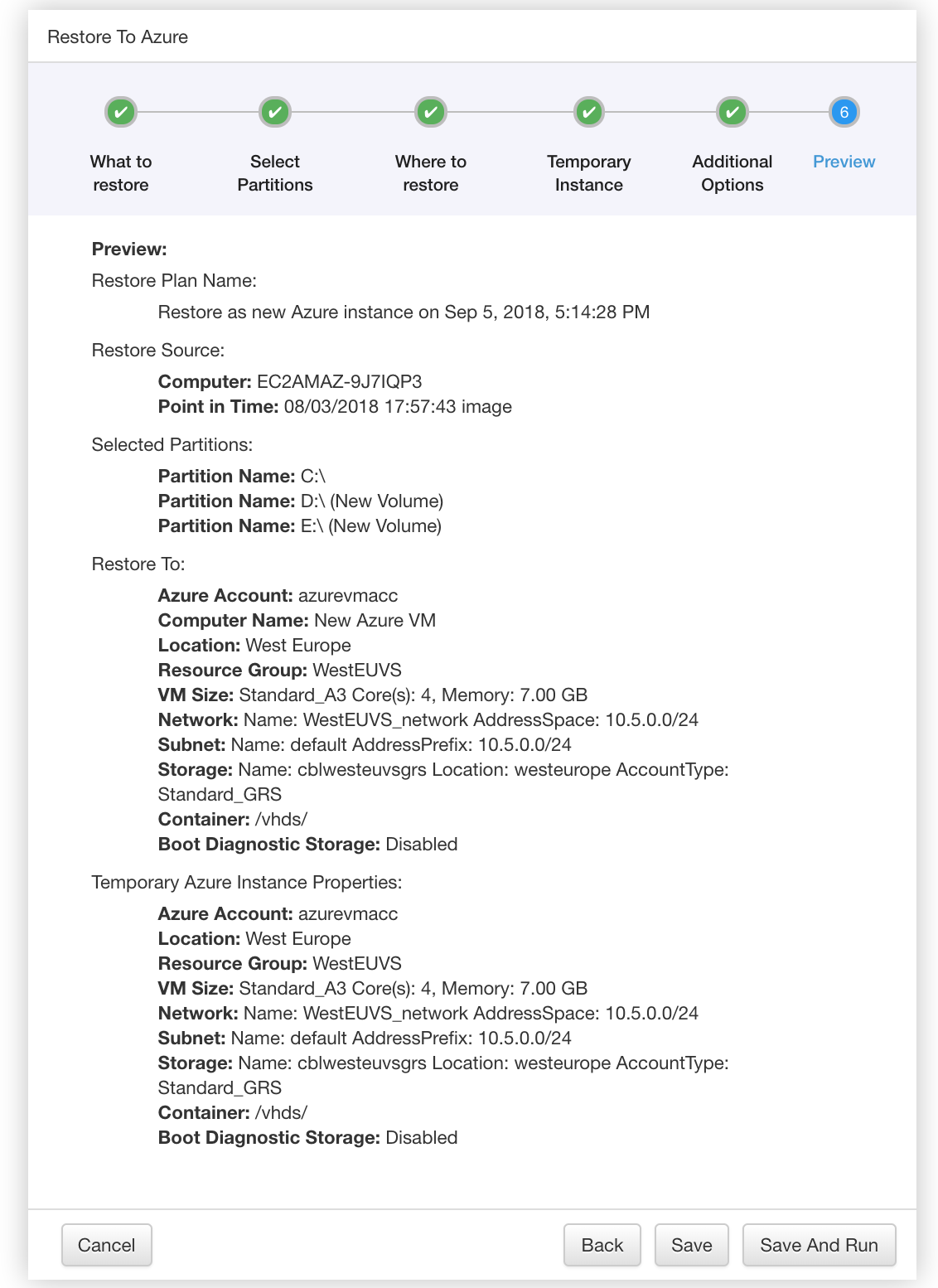 If you click Save, the plan will be saved on the Restore To Cloud New tab wherefrom you'll be able to manually start it.

During plan execution, you can observe the progress on the Management Console.

Since the image-based backup you've provided as the data source contained MBS for Windows, the newly created instance will naturally contain MBS for Windows too. That means you can access and manage the instance from the Remote Management tab the way you usually manage your regular computers. That should prove to be extremely useful if, for example, you have a computer that suddenly broke down and you need to quickly replace it with a cloud VM.
Restore Using Backup Agent
Aside from the Management Console, you can also restore image-based backups as Azure VM instances using Backup Agent.
Note that you must have the Restore to Azure VM feature enabled in Management Console. This feature is enabled by request. To send a request, proceed as follows:
Open the Management Console.
In the Settings menu, select Global Agent Options.
Find the Restore to EC2 / Azure VM option group, then click Send Request.

Restoring an Image-Based Backup to Azure VM
Add your Azure VM credentials on the Management Console if you haven't already done that. To add new storage, click Add Account.

Choose Microsoft Azure VM storage account type: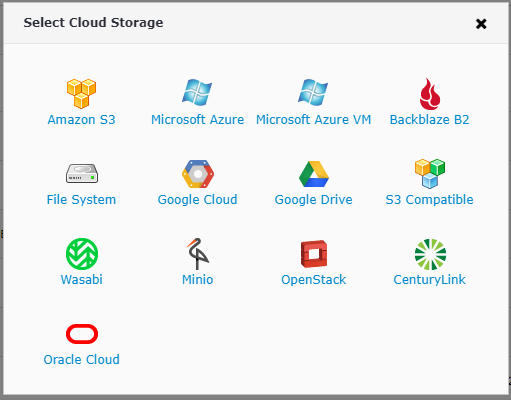 Click Sign in, then select your Azure account.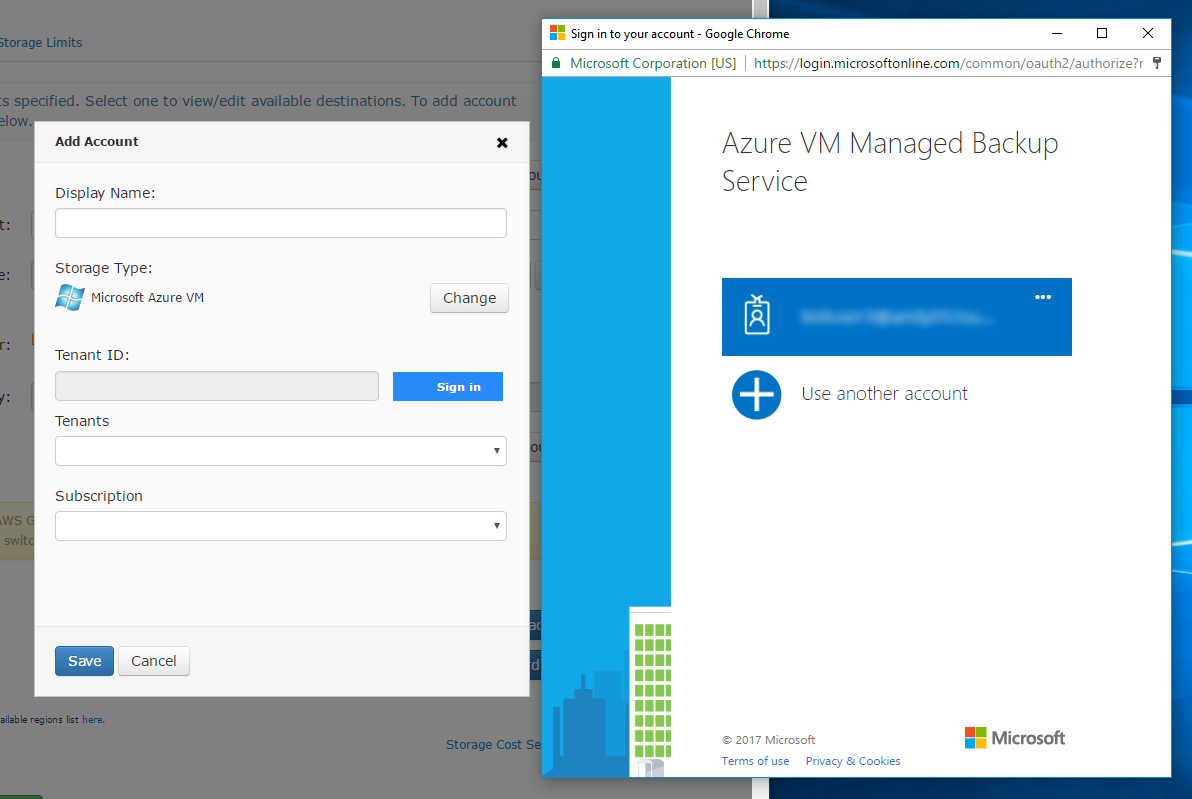 Fill in the required credentials.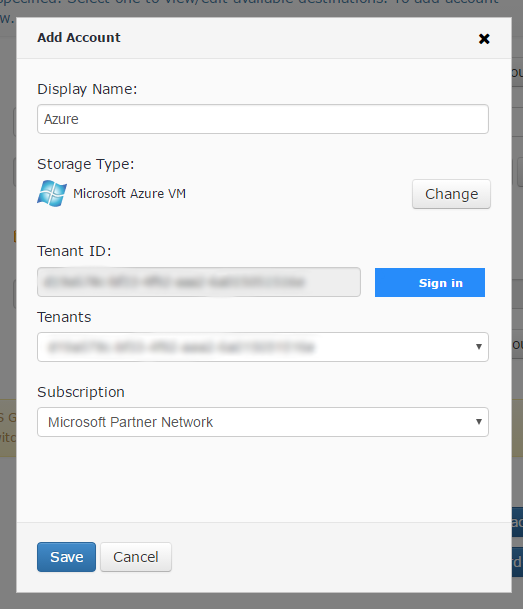 Note: A business account is required to perform the restore. If you attemp to sign in using a personal account, you will likely get the following error: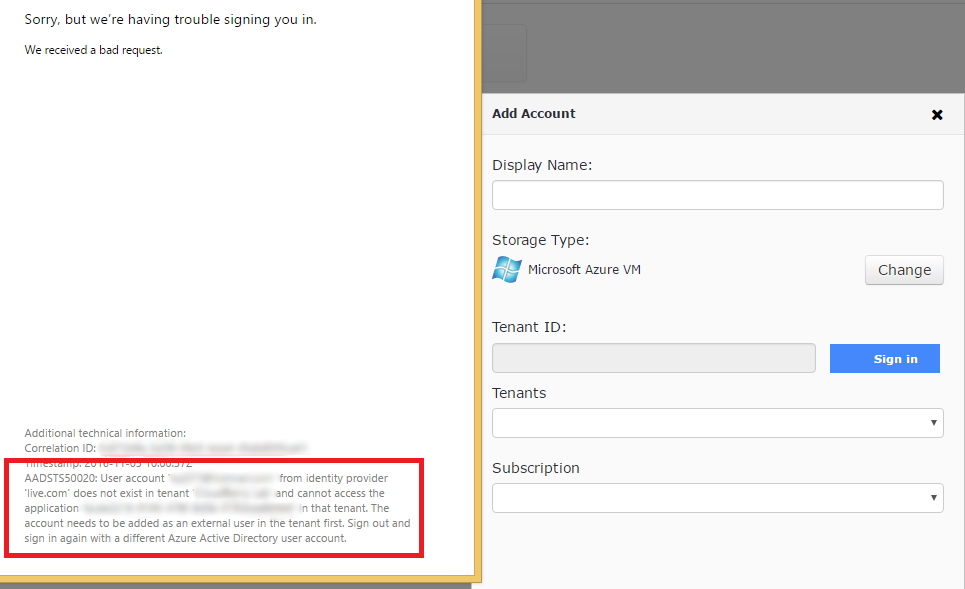 Although, there is a workaround for this problem. Simply go to the Azure web portal, and create a user with the required permissions. Then use this user's credentials to log in.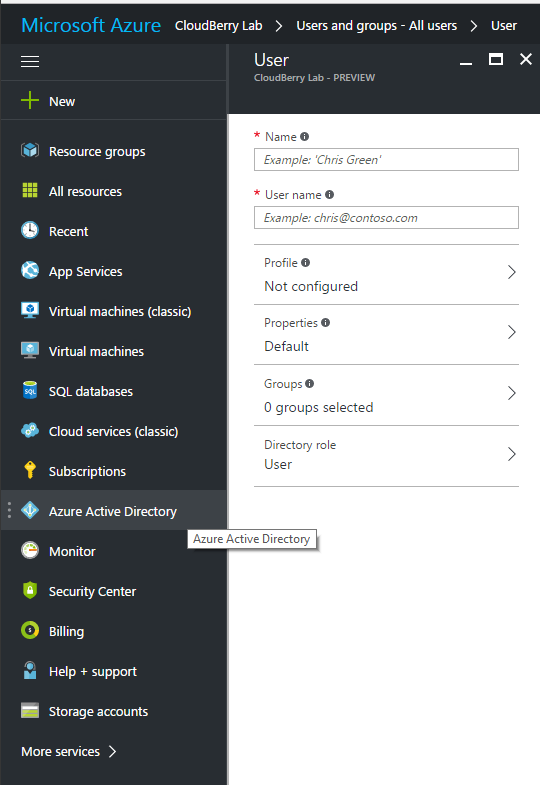 Assign Azure VM Account to MBS user
Finally, you have to assign the just set up Azure VM account to the required MBS user. This procedure is not performed automatically, as you might want to give different users access to different cloud storages.
In the Users menu, select Users.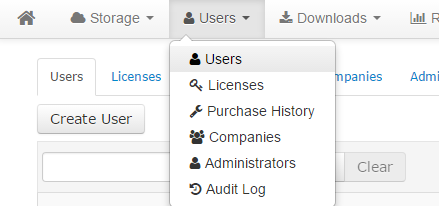 Find the required user, then click Edit.
Click Add Backup Destination.

Select Azure VM, then click Save.
Azure appears in the available backup destinations list.

Configure Backup Agent
Run Backup Agent.
In the Backup Agent menu, click online backup Account.
Then click OK.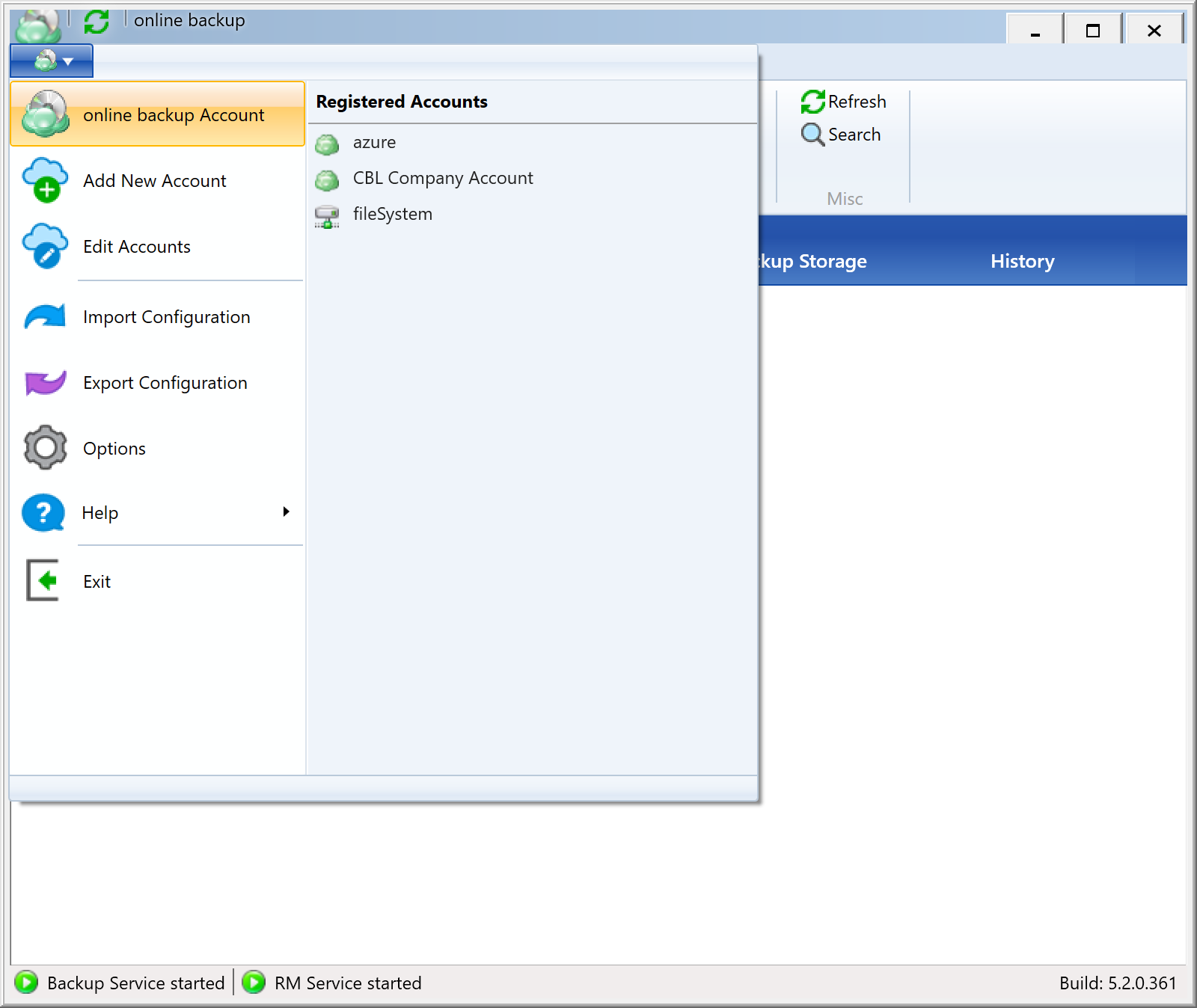 Click Restore to Azure VM.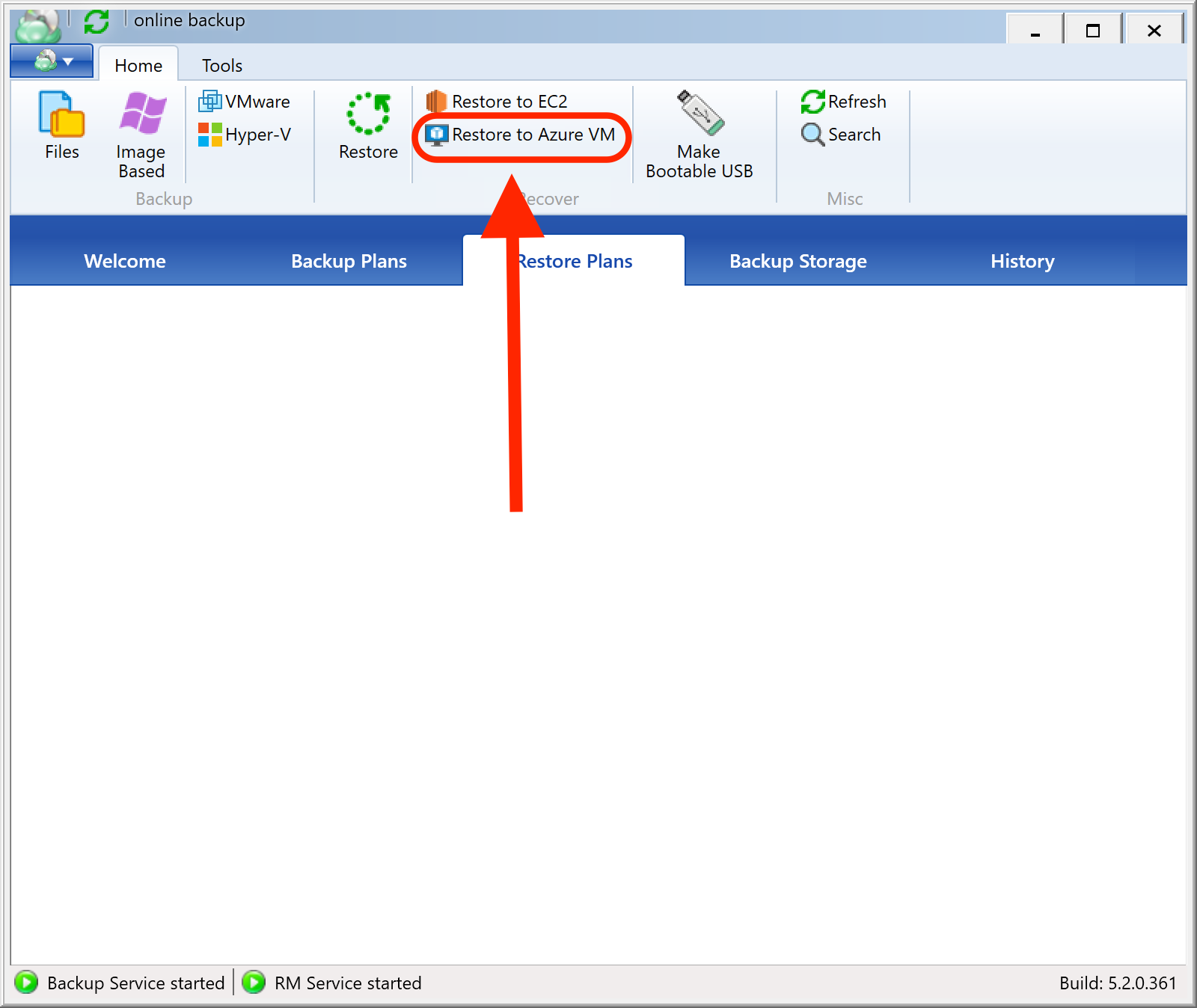 Once the Restore Wizard is launched, on Select Backup Storage step, select Azure VM.
Follow the Restore Wizard steps.
On the Azure Data Type step, select the Restore as Azure Virtual Machine option.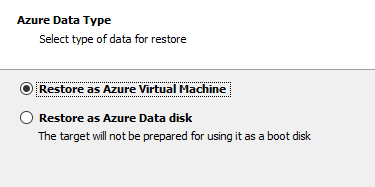 On the Specify Azure Virtual Machine Instance details step, select the appropriate options, then click Next.
On Specify Temporary Instance step, select the Use temporary instance option.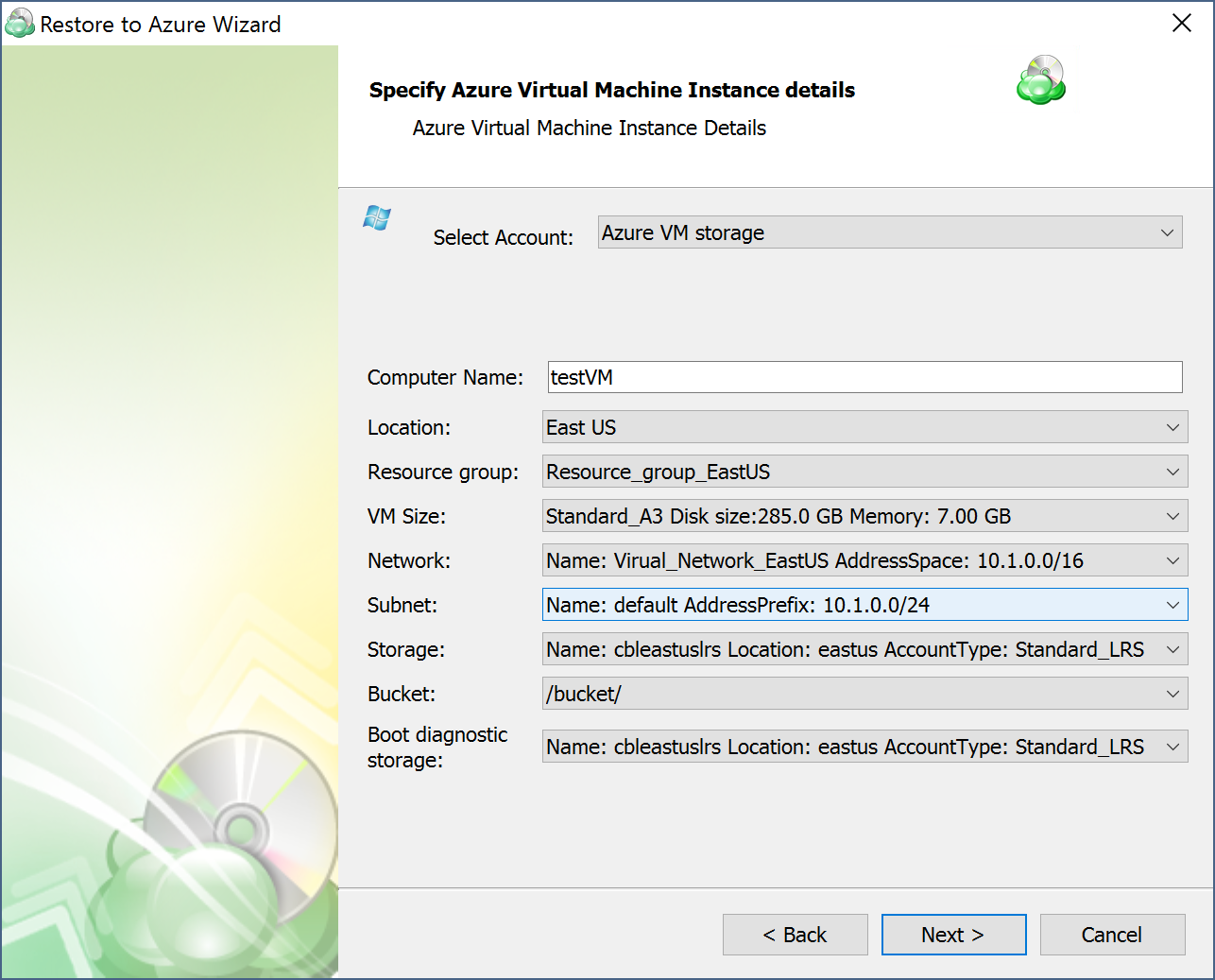 Finish the Restore Wizard, then run the restore plan.