Pre-Configured Installation
You can configure the Connect settings, generate an installation script and run it on multiple computers. To pre-configure and download Connect host package, proceed as follows:
In the Management Console, select Downloads
Click Downloads
Click Connect
Click Remote Computers Installation button. Pre-Configured Installation pane appears.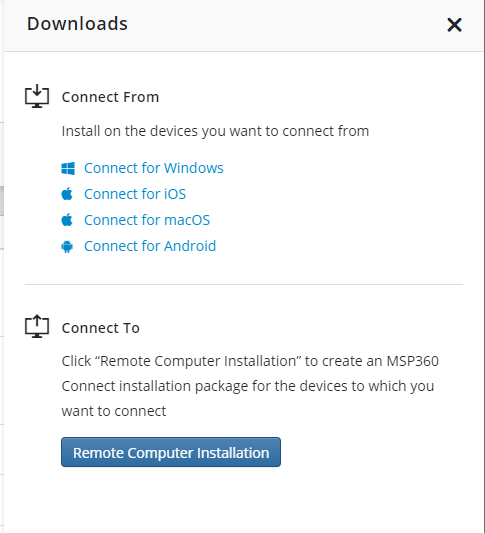 On General tab select the company that can use generated installation script and specify the expiry date. Installation script should be downloaded before the specified expiry date.
On Proxy Settings tab select the proxy usage settings. By default, Do not use proxy option is set. If you select Manual proxy configuration option, specify the proxy server adress and port number. For example, if the proxy server's address is http://proxy.example.microsoft.com (https is not currently supported) and the port number is 80, the setting in the Proxy Host box should appear like this: proxy.example.microsoft.com
On Proxy Connection tab specify whether LAN direct connections and Internet direct connections cannot be used. If LanChannelsEnabled is enabled, specify the port number.
On Limitations you can disable outgoing connections, access to configuration, and graphic user interface for users of remote computers
On Misc you can configure Windows key combination (hot key) usage. The following options are awailable:

On this computer . Hot key combinations from remote computer will be ignored.
On the remote computer. Hot key combinations from client computer will be ignored.
Only when using the full screen. Hot key combinations will work only with full screen mode Also you can set default sound options and configure the application features

On Security you can configure the PIN length to increase safety or reset PIN in case you suspect it may be compromised. You can schedule resetting PIN as appropriate. If you want to secure quick connections to remote users instead of using a different PIN every time, you can set up a custom password. It is recommended to use long custom passwords for security reasons and keep them in safe place.
Once you are done, click Generate Installation Script.
Share generated installation script URL or command with remote computer owners to download and install the pre-configured Connect instances. All settings will be applied automatically on installation.