Remote Access
Managed Backup enables you to manage client backup as a service (BaaS). This chapter describes how to access your customers remotely in case of any issues on their side.
Any remote connections are turned off by default. To enable remote connections, proceed as follows:
In the Settings menu, select the General item, then select the Enable Remote Access for all computers check box

Remote Features
Managed Backup allows you to manage the BaaS service for all customers via a centralized web portal. After creating a user account and setting up the customer's backup configuration, you can generate a special distribution pack of Backup Agent (for details, see the Using the Remote Access Feature paragraph of this chapter).
Backup Agent is a managed point for the web portal. To view a list of all managed computers, open the Management Console toolbar, and in the Computers menu, select Remote Management:

Remote management tools provide a variety of management settings that can be applied with no direct interaction with the user machine. For instance:
Manage and Monitor Backup Jobs from the web control panel. Continuously monitor backup processes on user machines, including backup plan configuration, data restore, and backup software upgrades. To access this feature, in the Computers menu select Remote Management:

Manage Packages and Plans. Create backup and restore plans for your user computers, manage cloud storage packages to set storage limits

Start One Click Restore to Amazon EC2. You can restore the customer's Windows Server as an Amazon EC2 instance. To access this feature, click the Gear icon next to a managed computer, then select Restore to EC2: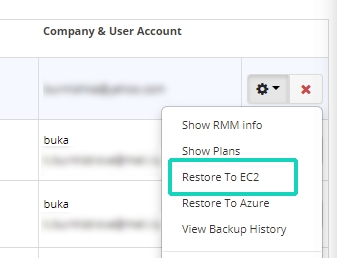 Remote Access Tools
Connect (formerly Managed Remote Desktop) is an efficient remote management tool integrated into Managed Backup. This feature require licensing. Refer to Connect chapter for details on how to use this functionality.