OptiTune Integration
OptiTune is a remote management solution that has been designed to maximize the efficiency and simplicity of IT management in any size operation. OptiTune enables you to control all computers within your organization, ensuring that each has the most current updates. OptiTune can also detect malware and deploy the latest versions of Microsoft Office applications.
OptiTune offers native integration with Managed Backup. With it, you are able to deploy Backup Agent for Windows as well as track backup and restore plans right from OptiTune's dashboard.
Once signed up for OptiTune, download the installation archive, then unpack it.
Run the install.cmd file and complete the installation.
Log on to OptiTune's dashboard.
In the menu, click Backup, then click Settings.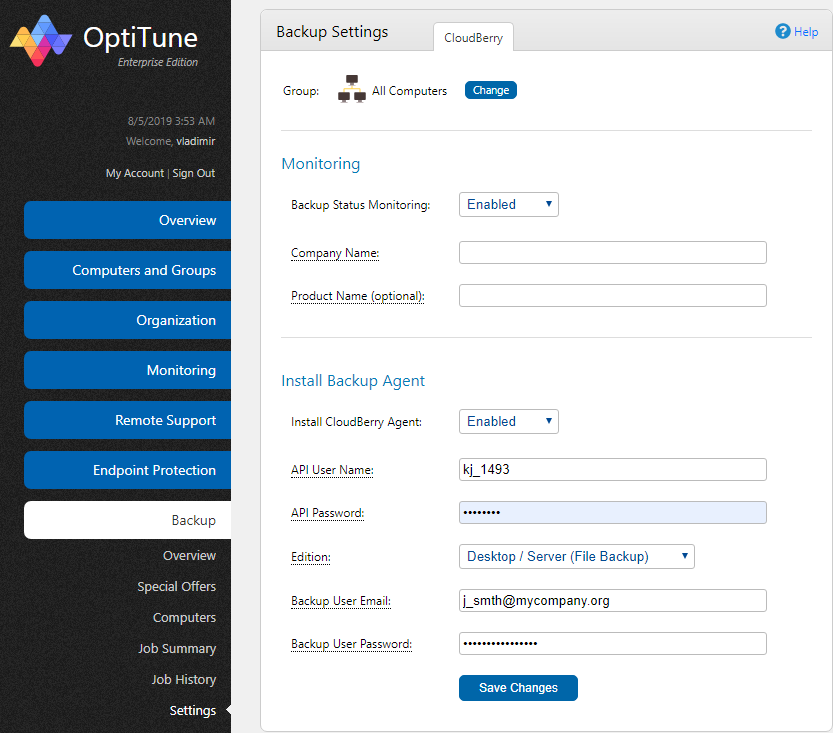 Specify the API credentials. To learn how to obtain them, refer to the API chapter.
Specify license edition, then enter your Managed Backup credentials.
Once you are finished, click Save Changes.
The OptiTune functionality includes backup and restore plan monitoring. OptiTune sends notifications of all Managed Backup activity and displays backup and restore plan status charts. All information can be further sorted by computers, plan types, etc. To learn more, refer to the OptiTune Help documentation.