About MSP360 Managed Backup Service
MSP360 Managed Backup Service (MBS) is an ultimate data backup and restore solution for managed service providers and IT departments that require centralized job management, monitoring, reporting, and licensing features.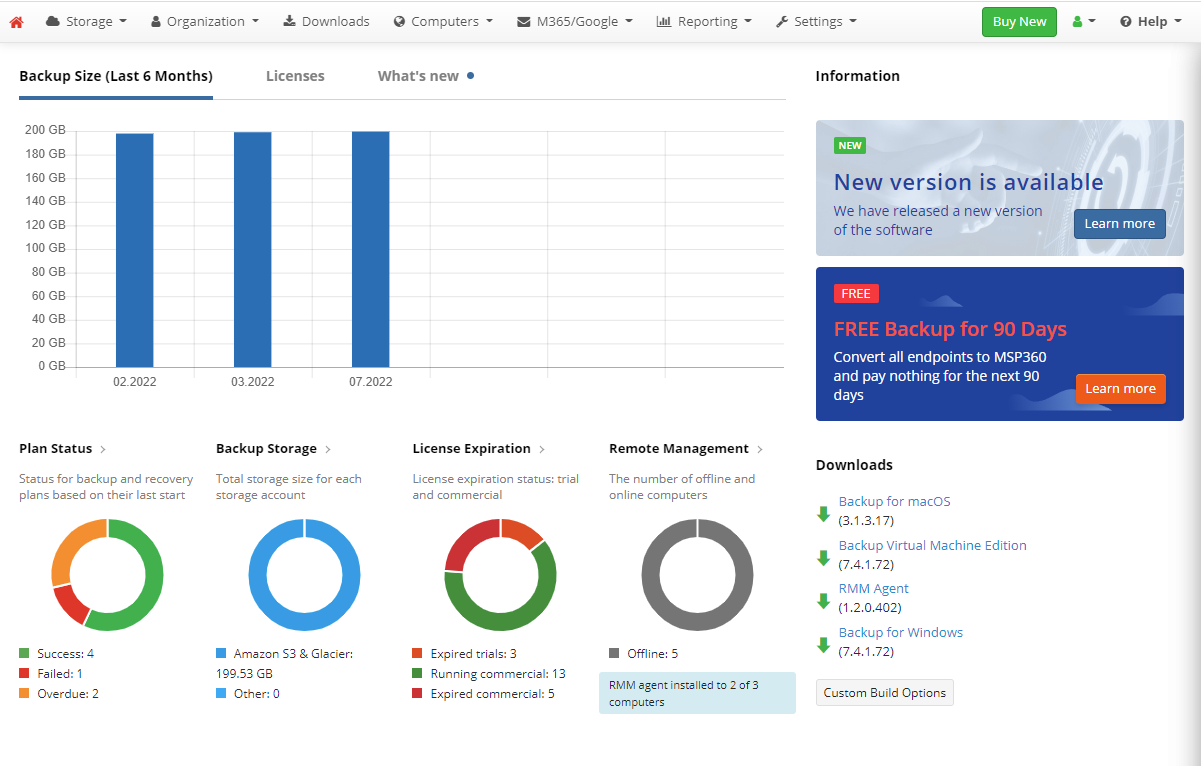 MSP360 offers features customers expect in backup software, including image-based and file-level backups, Microsoft SQL Server, and Microsoft Exchange backups. Agentless backup support is available for VMware and Hyper-V virtual environments. Customers can also back up their Microsoft Office 365 and Google / Google Workspace resources.
Despite Managed Backup is designed for cloud backups and provides major cloud storage provider support, it also features backups to a variety of local storage.
Designed for Managed Service Providers
Managed Backup Service allows service providers to manage Backup Agent installations and upgrades, licensing, reporting, monitoring, and backup/restore jobs from the web portal offered as SaaS. MSPs can white-label MSP360 Managed Backup and offer backup services to their customers under their own brand.
Flexible Licensing
MSP360 is pleased to announce the MSP Expansion program. This program allows MSPs to offer a trial MSP360 license to any of their current or potential customers without a financial commitment. You get the same 24x5 customer support as it goes for paid customers, so we can help you ensure you and your customers are successful.
Cross-Platform Backup and Recovery
MSP360 Managed Backup Service operates on Windows and Windows Server, macOS, and different operating systems of the Linux family. Individual files and folders can be quickly restored from any type of backup (file, image-based, virtual machine). To bring a server back to life, Managed Backup Service supports Bare Metal Restore (BMR) to the original or dissimilar hardware, virtual machines, or cloud computing instances.
Bring-Your-Own-Storage Approach
MSP360 stands by a storage-agnostic approach to backup design with support for major cloud storage providers, including AWS, Microsoft Azure, and Google Cloud Platform. By decoupling cloud storage from the backup software, MSP360 puts customers in control of where their backups reside.
Managed Backup Features
Management Features
Backup-as-a-Service solution
Scales to customers of any size
Hosted on Amazon AWS for the best availability
Remote installation/job management via own web-based console
Remote installation and job deployment
Remote desktop access for technical support and troubleshooting
Simple and friendly license management
Storage, billing, and capacity reporting
White-labeling (rebranding) for MSPs
Integration with popular RMM/PSA solutions: ConnectWise, Autotask, OptiTune, SynchroMSP and RepairShorp
MSP360 Backup Admin app for iOS devices
Self-service restores
APIs for integration
Backup Features
Advanced backup architecture
Windows, Linux, and macOS support
Entire server protection with image-based backups
Data protection with file-level backups
Microsoft SQL Server and Exchange backups
VMware and Hyper-V backups
Microsoft 365 and Google Workspace backups
Grandfather-Father-Son (GFS) policy (new backup format only)
Client-side deduplication (new backup format)
Enhanced consistency checks for new backup format
Changed Block Tracking for Image-based backups (new backup format)
Synthetic Backup for file, image-based, VMware, and Hyper-V backups (new backup format)
Bring-your-own cloud storage
Customers leverage their own cloud or local storage to create backup service offers tailored to customer needs
Intelligent incremental backups for best performance
Microsoft VSS service support for uninterrupted backups
Hybrid Backup: local and cloud backups at a single click
Backup compression to reduce storage costs
Direct backups to cloud storage
End-to-end encryption to secure data
No middleware required
Restore Features
Restore files/folders from file-level, image-based, and virtual machine backups
Fast file search using the integrated catalog
Quick restore of files and folders
Entire system restores from image-based backups to original or heterogeneous hardware, Amazon EC2, Azure VM, Google VM (coming soon), VMware, Hyper-V
Restore to the cloud
Direct restore to VMware & Hyper-V
Bare-Metal Recovery to original or heterogeneous hardware
Self-restore service
File restore from the web portal