Backup Destinations
Configure Backup Destinations
You can let your users backing up their data to multiple storage accounts.
For configuring this, you need to do the following:
Add a storage account.
Provide your users with an access to the added storage account.
This topic gives a step-by step instruction about how to do it.
Add a Storage Account
Check out the steps in the Storage Accounts.
Assign a Backup Storage Destination to User
Refer to the Create Users if you don't have users yet.
Now you need to provide your users with an access to the added storage. To do this, follow the instruction below.
Go to the Users section under the Organization tab.

Click the Edit button next to the user.

Scroll down the page.

Press an Add Backup Destination button.

Select the appropriate storage account, bucket (or container) and a storage limit: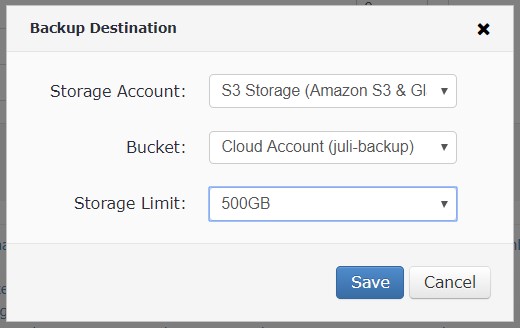 Click Save.
The added account appears on the list of the accounts that a selected user can perform a backup to.

Now you have configured a new backup destination, and the user can use all listed backup destinations for their backups.