Restore Image as EC2 Instance
This article explains how to:
Restore using Management Console
Management Console offers full-fledged cloud restore functionality that enables you to:
Restore image-based backups to Amazon EC2
Restore MBS-made cloud snapshots to Amazon EC2
Whether you need a hot PC replacement based on an image-based backup in Azure or whether you want to restore an MBS-made snapshot to EC2, MBS Management Console can do that for you in just a few simple steps. Naturally, the process varies a little depending on the target service (EC2 or Azure) and the type of data source (image-based backup or snapshot). But in the end, you get a very straightforward interface that should take no more than a few minutes to go through. This section, however, only demonstrates how to restore image-based backups and snapshots to EC2 and also explains all of the accompanying technicalities.
Open the Management Console.
In the RMM menu, select Restore to Cloud.
Click Amazon EC2 Restore.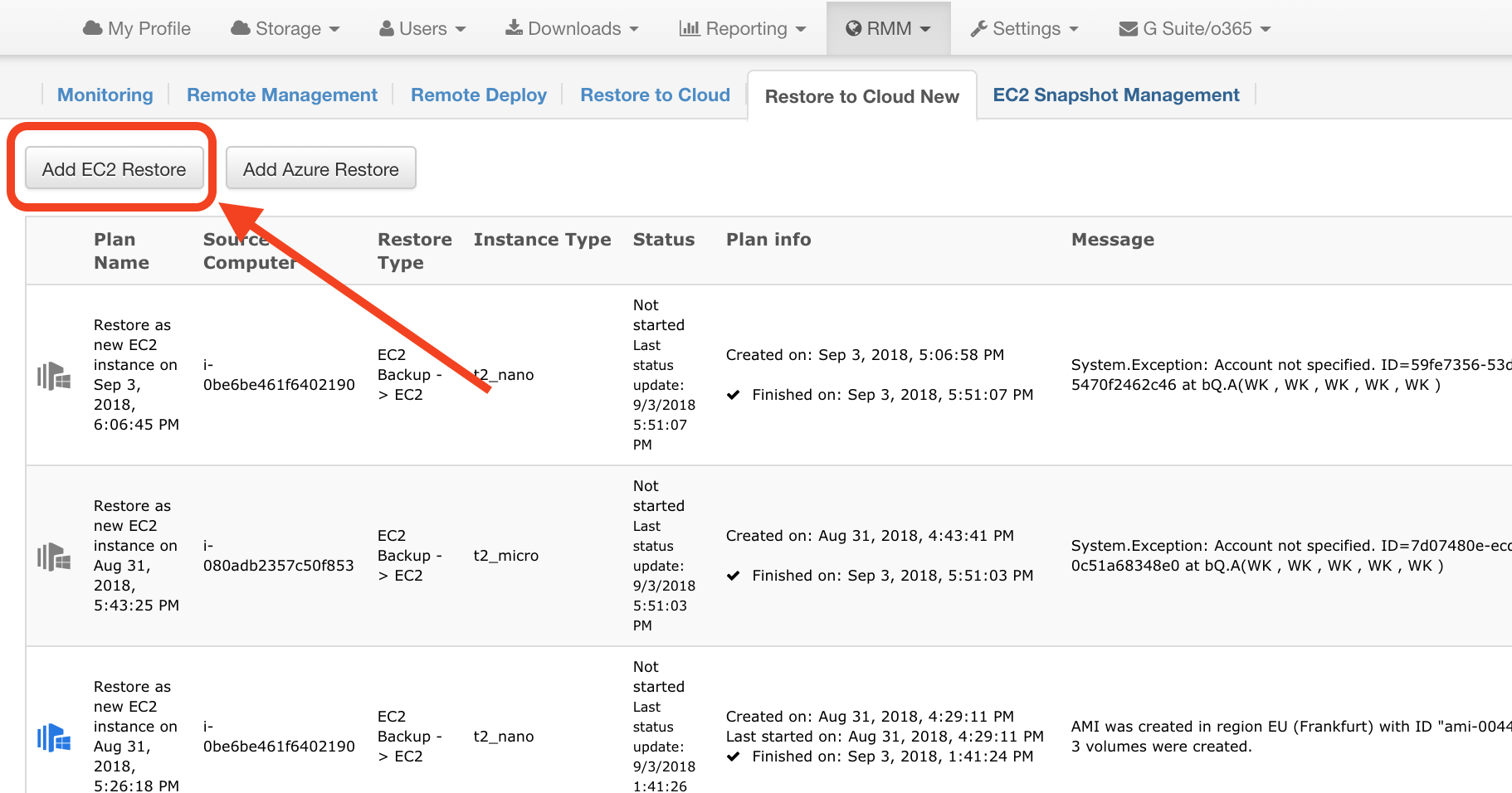 You will be presented with the Restore Wizard that includes all of the steps you need to take to perform a restoration.
In the first step you need to indicate the data source parameters for the restoration:
Plan Name. The plan name appears on the main dashboard during plan execution.
User. Select the user whose storage account contains the data.
Destination. Select the storage account that contains the data.
Computer. Select the computer whose data is to be restored.
Point in Time. Select the backup/snapshot version that is to be restored. Click Next.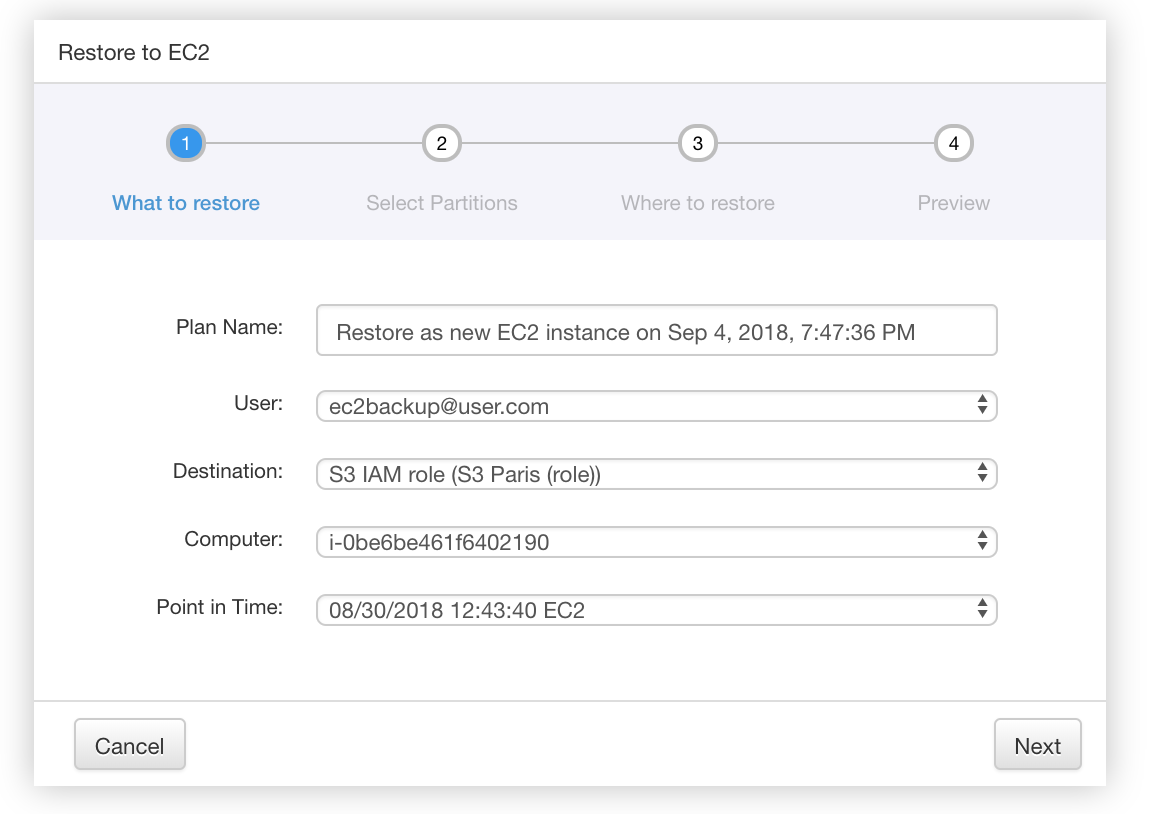 In the second step, you need to specify storage disk partitions that you want to be included during restoration. When done, click Next.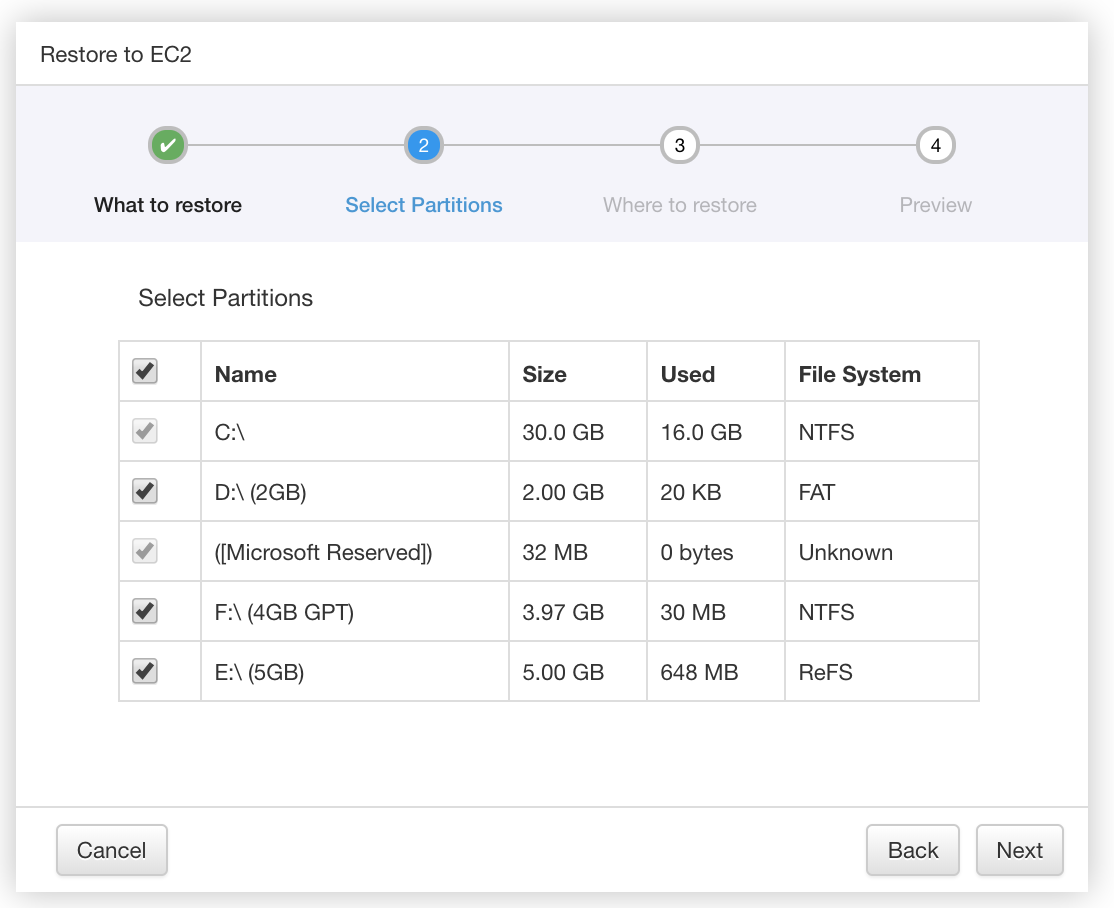 In the third step you need to specify the target instance parameters:
AWS Account. The account under which a new EC2 instance will be stored
AWS Region. The region that is to store the newly created EC2 instance
EC2 Instance Type. The type of instance required. Learn more about EC2 instance types here
Subnet. Select one of the subnets available. Learn more about EC2 subnets here
Security Group. Select the default security group or the one created by yours
Consistent restore. Finally, you need to choose whether you want to perform a consistent restoration. Consistent restore is an MBS feature that enables you to restore your cloud snapshot in a consistent state. You might be thinking, "Why would my data not be restored in a consistent state in the first place?" To answer that question, let's briefly explore how cloud snapshot backup is organized
Amazon EC2 native snapshot backup can take almost an hour to complete. During this hour, a lot of data could be modified and the resulting snapshot can contain corrupt or inconsistent data. To resolve this issue, before creating a native cloud snapshot, MBS first creates a persistent VSS snapshot that takes anywhere from a few seconds to a few minutes to complete. Once the VSS snapshot is created, MBS requests that EC2 creates a native snapshot and the resultant snapshot is then stored in S3.
When you attempt to restore such snapshots using the mechanism demonstrated in this article, you can choose either to restore the OS to the point in time when Amazon was creating a snapshot (checkbox deselected) or roll back to the time when the VSS snapshot was created (checkbox selected).
Note that using consistent restore requires utilizing a temporary instance to roll back to the VSS Snapshot.
Click Next.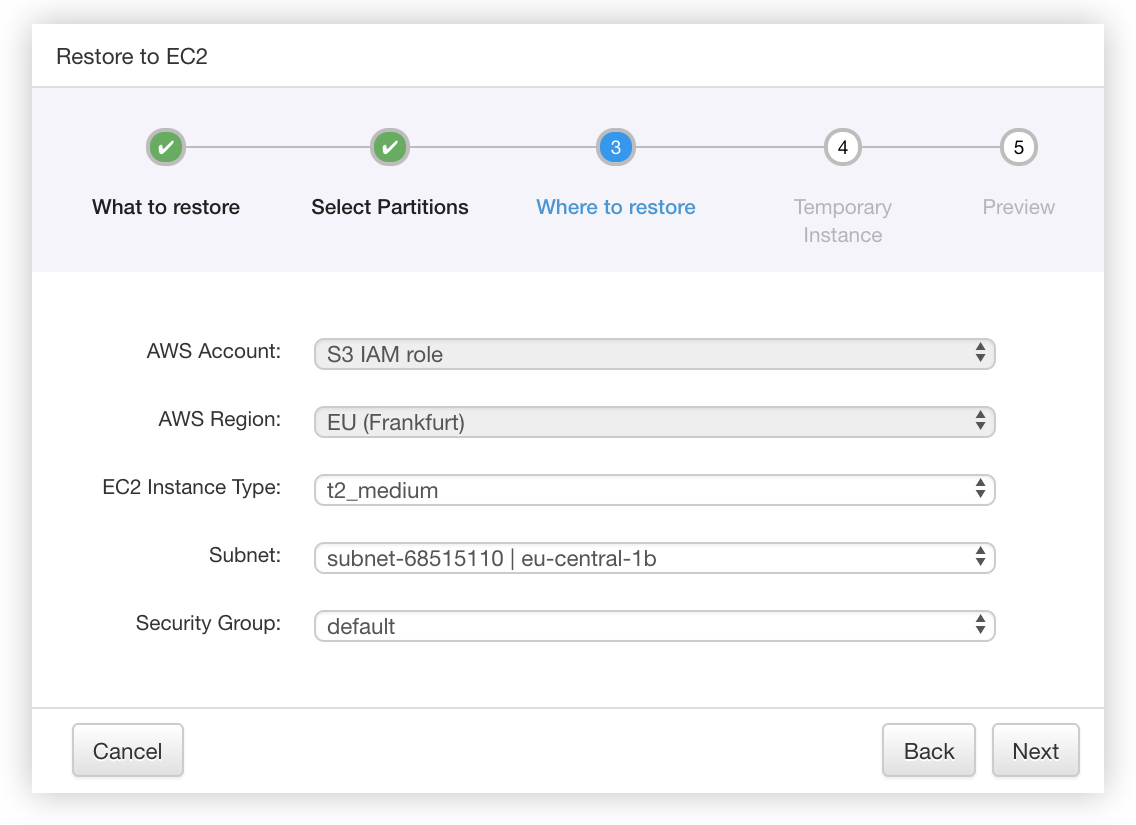 The next step is a temporary instance configuration. Here you need to specify the same set of parameters that you specified on the last step with the addition of Amazon Machine Image (AMI). AMI is essential information that includes a template for the root volume, launch permissions, and a map of volumes to be attached to the instance.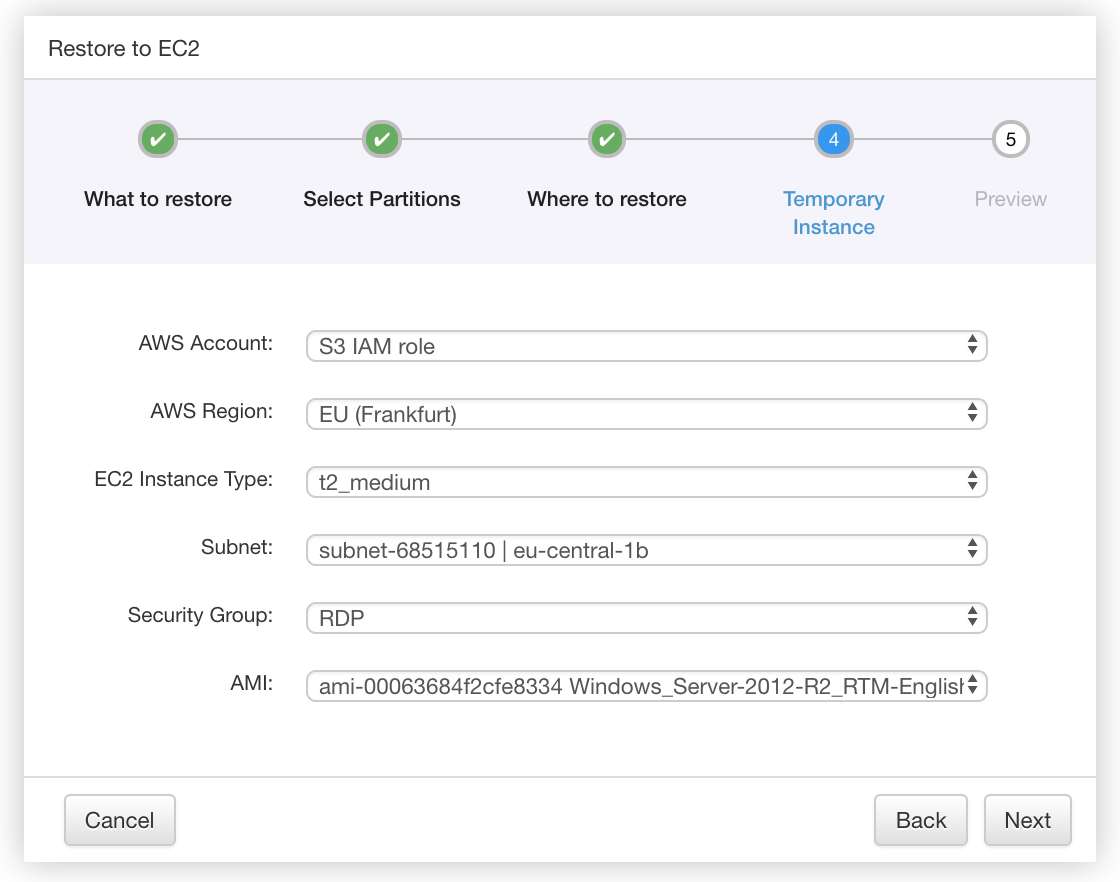 The last step is a preview. Review all of the information you've specified in the last four or five steps, ensure that it's accurate and click Save and Run to execute restoration.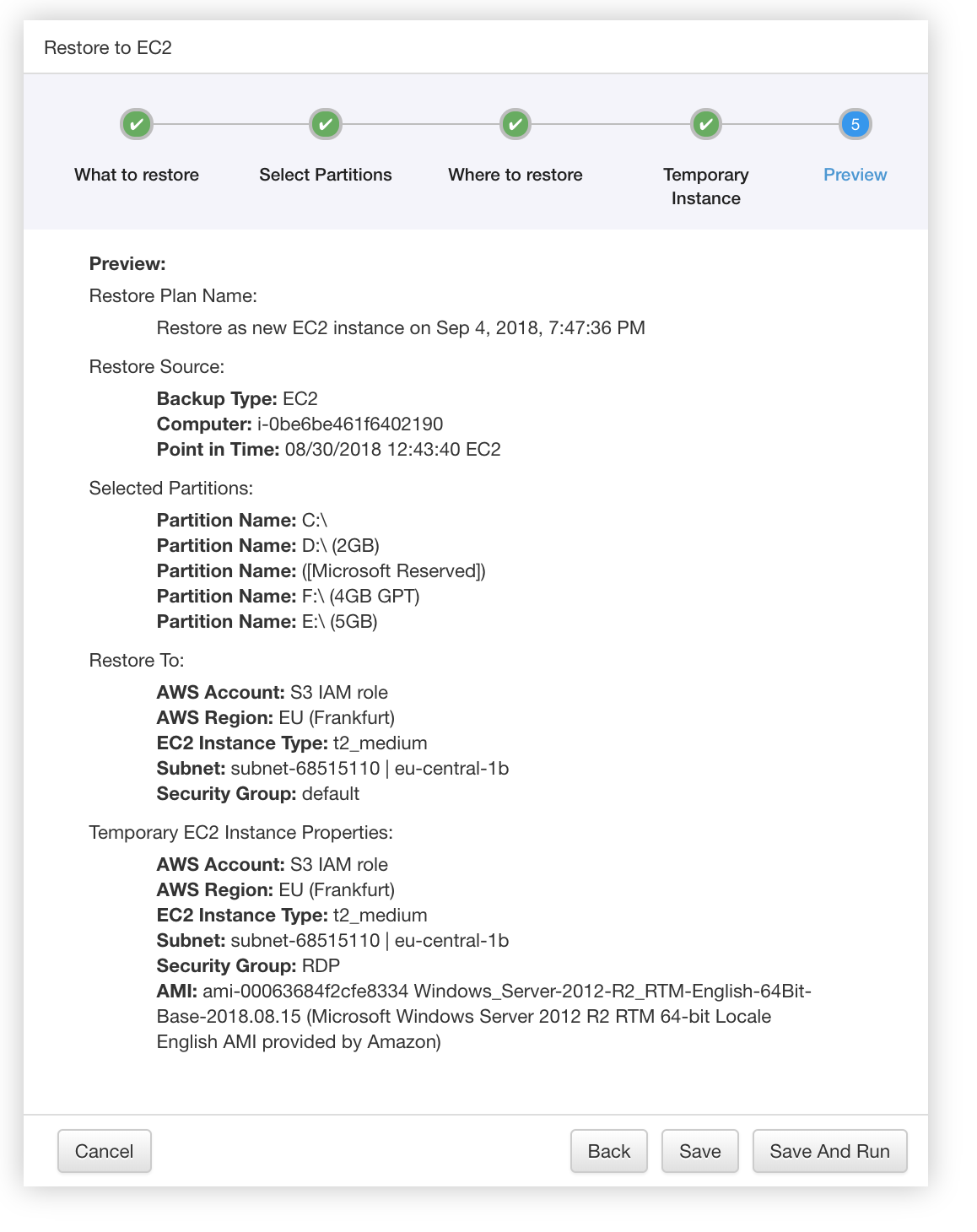 If you click Save, the plan will be saved on the main dashboard wherefrom you'll be able to manually execute it.

During plan execution, you can observe the progress on the main dashboard.

Once the restoration is complete, you can click Run EC2 Instance to launch the newly created EC2 instance.

Since the snapshot or image-based backup you've provided as the data source contained MBS for Windows, the newly created instance will naturally contain MBS for Windows too. That means you can access and manage the instance from the Remote Management tab the way you usually manage your regular computers. That should prove to be extremely useful if, for example, you have a computer that suddenly broke down and you need to quickly replace it with a cloud VM.
Restore Using Backup Agent
Aside from the Management Console, you can also restore image-based backups to as EC2 VM instances via MBS Agent for Windows.
Note that you must have the Restore to EC2 feature enabled in Management Console. This feature is enabled by request. To send a request, proceed as follows:
Open the Management Console.
In the Settings menu, select Global Agent Options.
Find the Restore to EC2 / Azure VM option group, then click Send Request.

Restore to EC2
On the main toolbar, click Restore to EC2.

In the "Type of Data" step of the Wizard, select the Restore Image-Based Backup option.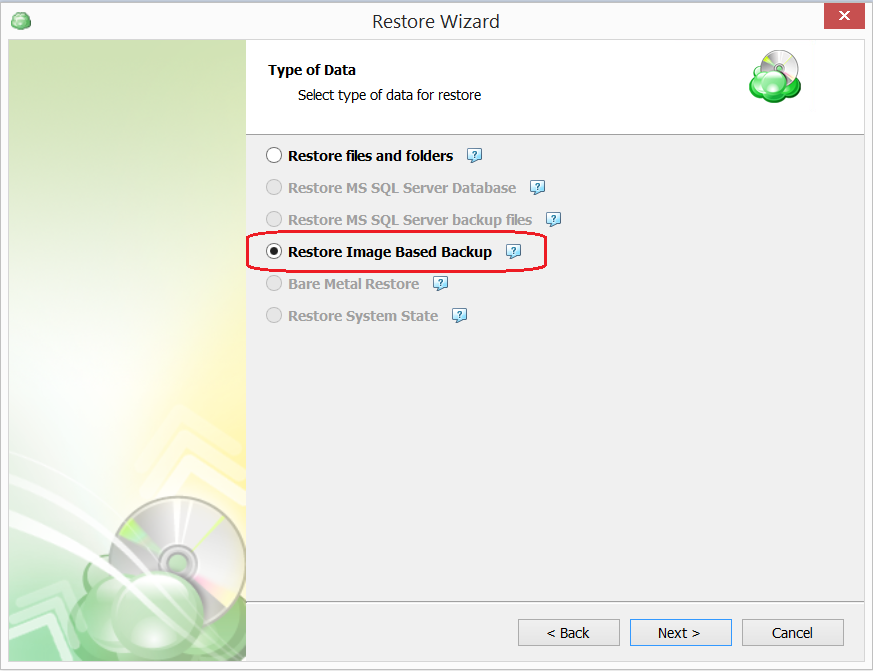 Then select the Restore as Amazon EC2 Instance option.
You may want to use the Create AMI (Amazon Machine Image) option. The Create AMI option allows you to create an Amazon machine image (based on your image backup configuration) in addition to a restored EC2 instance. The restored EC2 instance will be run automatically and it will have a public IP address. The created Amazon machine image can be used for setting up other EC2 instances in the future. You can find Amazon machine images on the IMAGES section of the AWS EC2 Management Console

Note: To create the AMI, you need to configure a IAM role that has the required permissions to perform actions within EC2 (recommended). Alternatively, you can go with a specific [vmimport role (not recommended).
Note: With the Create AMI option you can restore Desktop OS
Without Create AMI option, you will have a restored EC2 instance but there will be no image on Amazon. For the restored EC2 instance you will have to configure a public IP address (Elastic IP) manually in the AWS EC2 Management Console.
The next step is to specifying Target EC2 Instance details: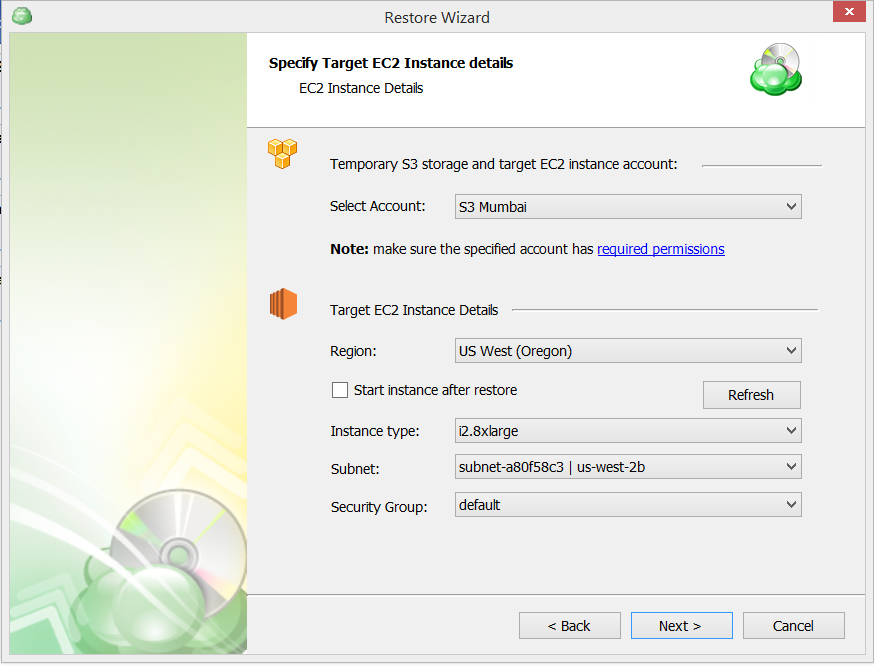 5.Choose whether to use a temporary instance.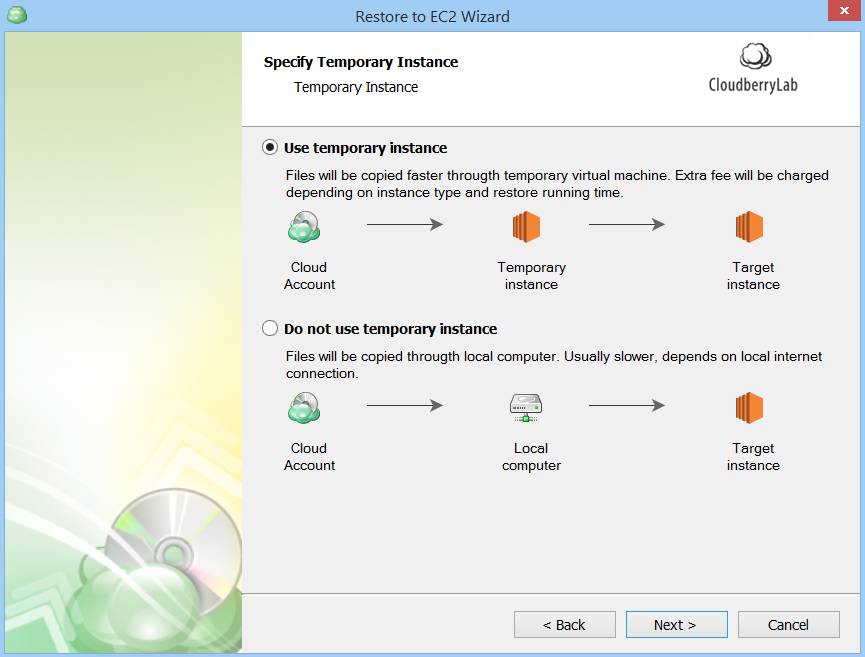 If yes, then specify the details.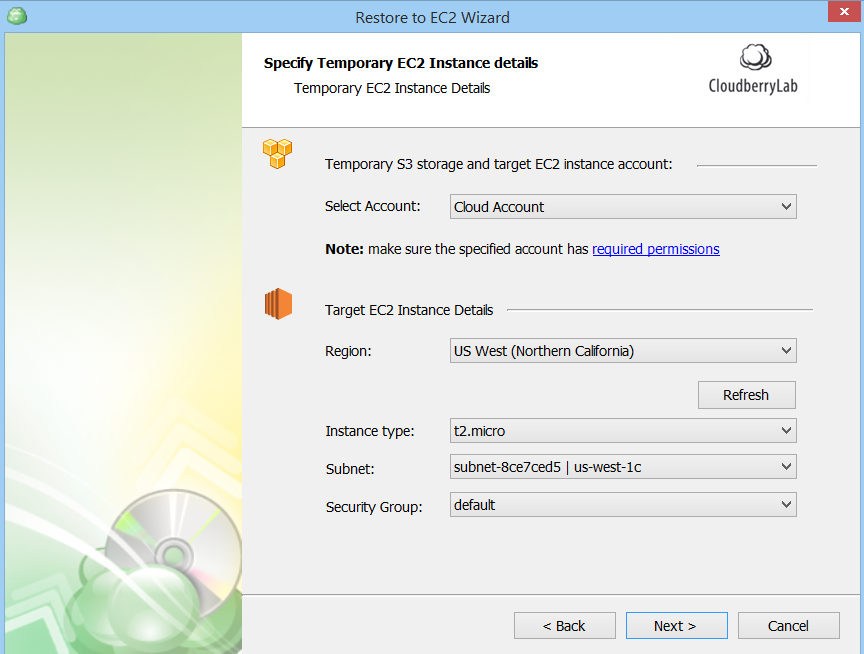 Select Account - choose the Amazon S3 account where you want to create an EC2 instance. This list contains Amazon S3 accounts that are specified in the MBS control panel (Storage Accounts tab).

Use temporary EC2 instance - this option allows you to run a restore job directly on Amazon S3. It sets up a temporary EC2 instance (Windows Server 2012). The temporary EC2 instance will be terminated when the restoration completes.

Target EC2 instance details:

Region - select a region where to restore an EC2 instance. We recommend using the same region where you store your image backup.
Start instance after restore - this option allows starting an EC2 instance right after the restore (available if you don't use Create AMI option).
Instance type - select instance type for the EC2 instance. For a list of instance types, see Instance Families and Types.
Subnet - specify a subnet that you want to launch the instance into.
Security group - specify a security group to assign to the Amazon EC2 instance.
Complete the rest of the Restore Wizard steps to create and customize your restore plan.
Finally, you can find the restored server in Amazon EC2 Management Console:

Conclusion
MBS Management Console provides a powerful cloud VM restore functionality that enables businesses to quickly replace a troubled computer with a cloud copy. If you periodically back up all of your computers to the cloud using the image-based backup in MBS for Windows, any of these computers can easily be replicated in the cloud along with all its data. Feel free to use this service in case of ransomware attacks, emergencies, or even if you just want to transfer some of your IT infrastructures to the cloud.