Image-Based Backup (Current Backup Format)
Managed Backup features image-based backups.
Image-based backup allows you to take a snapshot of an entire operating system with all data associated with it including the system state and application configurations, and save it as a single image. With image-based backup you can recover operation system on your users' computers from the system image file as it was on the moment of the last image-based backup plan run.
Currently, the image-based Backup is the most reliable way to back up everything on a system. It is an efficient way to prevent possible consequences of system crash that is useful for servers and workstations.
The new image-based backup:
Supports Windows Server 2008/2012, Windows Vista/7/8
Does not require space on the local drive. Backup is executed directly to the cloud
Supports restore from USB Flash directly from the cloud
Allows you to select all, system-required, or specific volumes for backup
Supports restore to a dissimilar hardware
Supports item-level restore from disc image
Supports restore to Hyper-V or VMware as a virtual machine.
Learn more how to download the latest Backup Agent in the following topic.
Image-Based Backup Plan on User Computer
Run Backup Agent
Click Image Based.

Backup wizard starts. Follow consequently backup wizard steps to configure the image-based plan.
Select a cloud storage to store your image-based backups.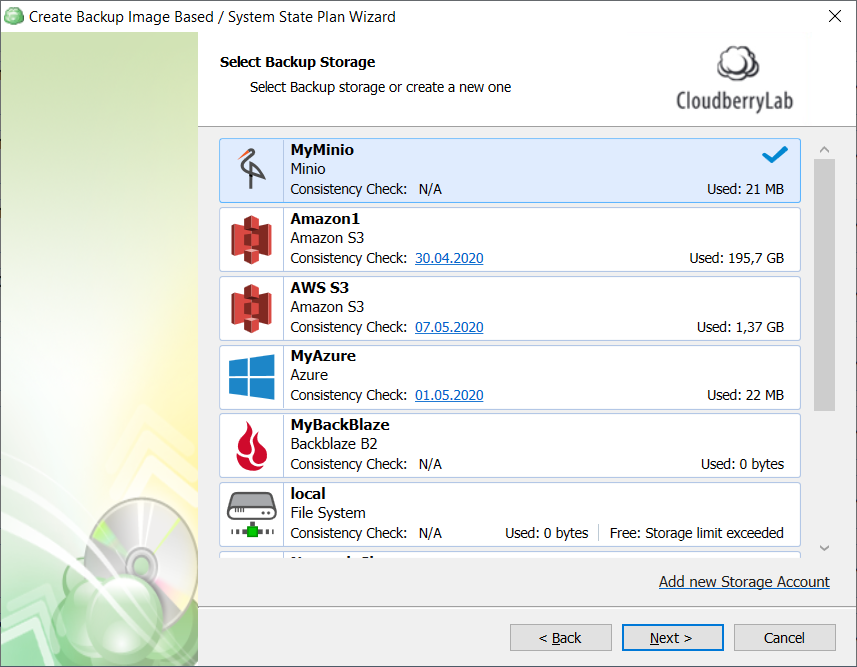 Specify the name for the backup plan.
Select partitions to back up.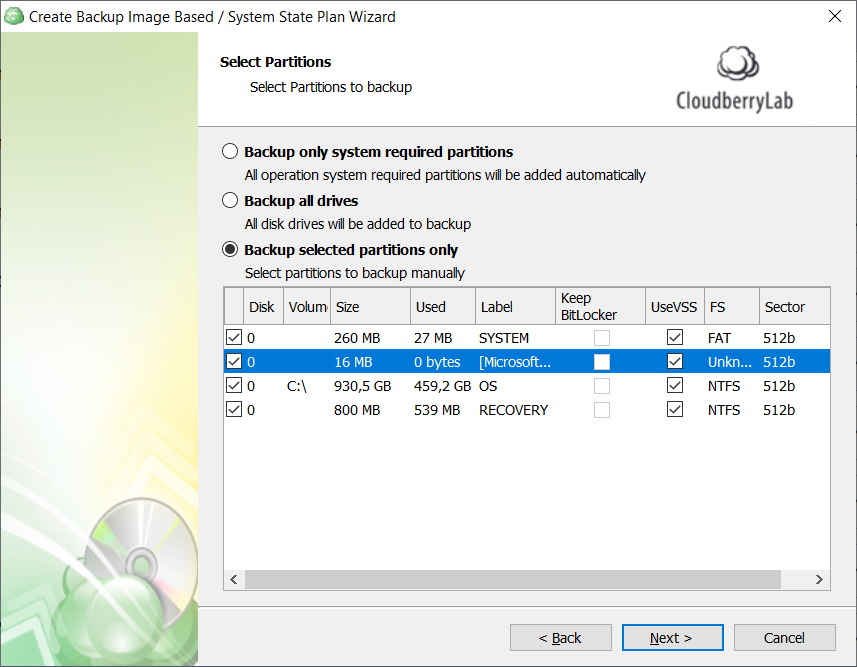 In case you need to back up a BitLocker-encrypted disk volume, unlock a BitLocker-encrypted drive to enable to back it up.
On image-based backup plan, the Backup Wizard provides the "Keep BitLocker" option:
When this option is enabled, the drive is backed up as is, with BitLocker encryption preserved. As a result, you will not be able to restore individual files from an encrypted volume afterwards. BitLocker encryption will be preserved for a disk image restored from such a backup.
When this option is disabled, the backup service will decrypt the volume contents during the backup processing. A disk volume copy restored from this backup will not be encrypted as a result. This enables you to restore individual files from an unencrypted image-based backup.
Select files/folders you want to exclude and specify advanced options.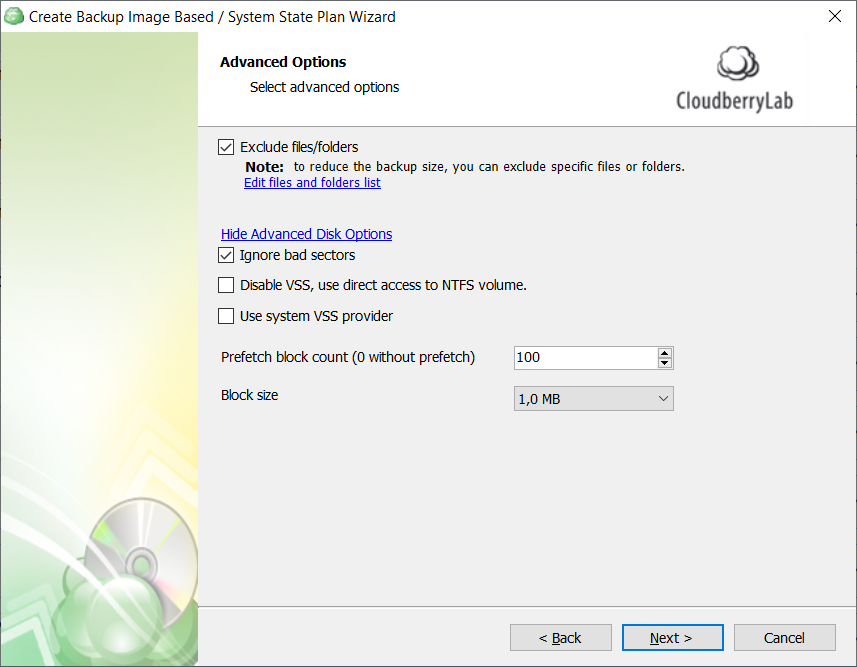 Ignore bad sectors. Enable this option to allow the recovery process to complete after encountering any damaged sectors on a local storage drive. After restoring such a volume, bad sectors will become empty sectors and you will not be able to read any files that were allocated in basd sectors.
Disable VSS, use direct access to NTFS volume Disables Volume Shadow Copy Service (VSS), which may be required when a disk is not used for writing operations and has not enough space to create a VSS snapshot (typically, this is the case with system volumes).
Use system VSS provider. This option forces MSP360 (CloudBerry) Backup to use the system default VSS provider. Select this check box in case of presence of any third-party VSS providers installed on the system that may interfere with proper processing of VSS snapshots by MSP360 (CloudBerry) Backup.
Prefetch block count. Specifies the maximum number of blocks that MSP360 (CloudBerry) Backup can store in memory for each disk volume.
Specify encryption and compression options for your backup plan.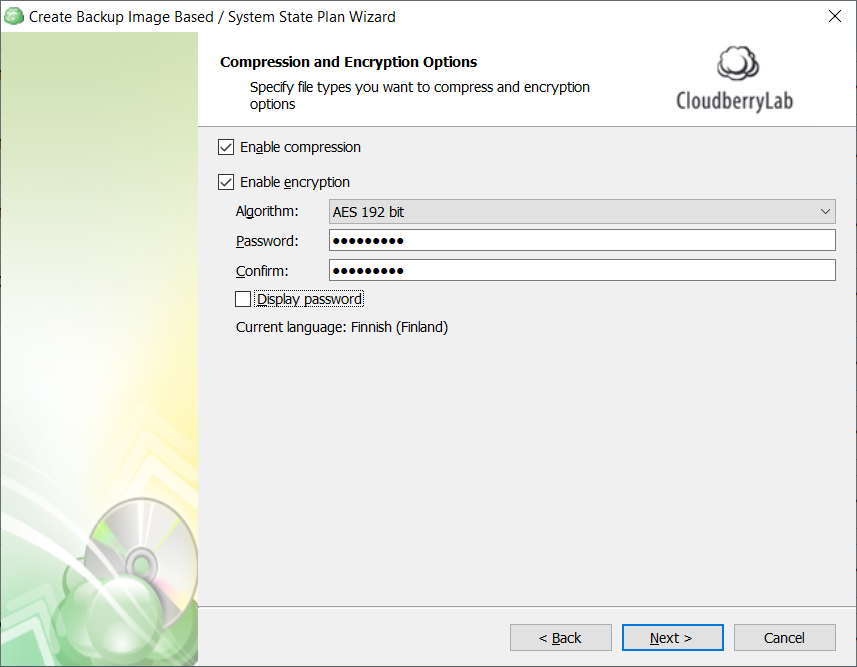 Specify the retention policy settings.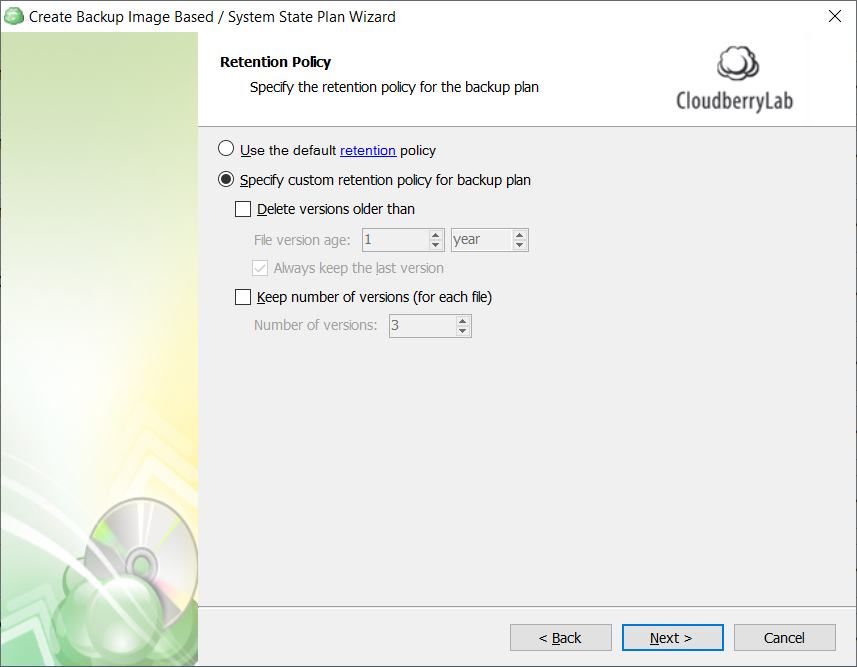 Specify the schedule for the backup plan.
Specify pre/post actions.
Starting from Management Console version 5.0, pre- or post- actions for Backup Agents can be restricted by provider. To learn more about the pre-/post action settings, refer to the Global Agent Options and Companies chapters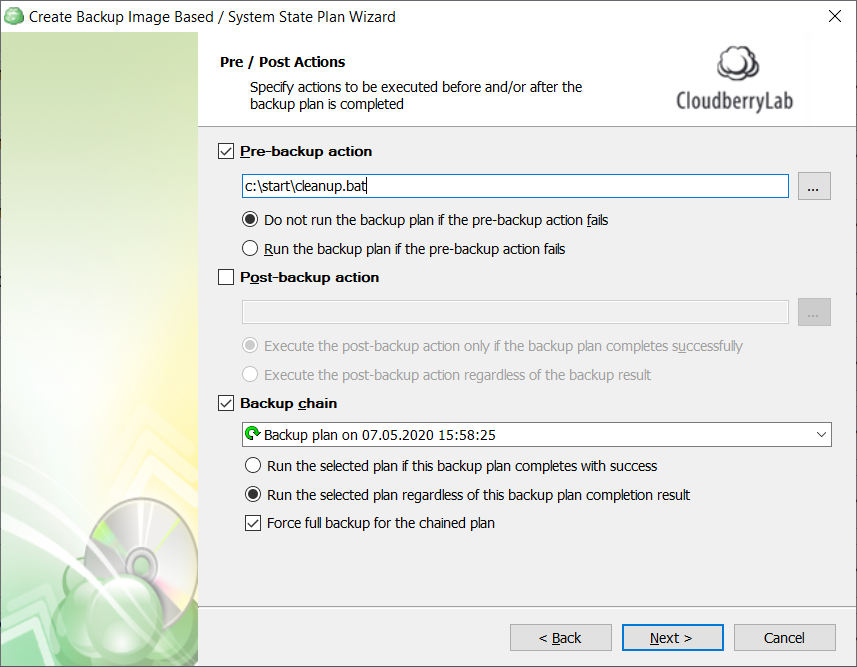 Specify notification options.
See the Summary step, finish the Backup Wizard.