Backing Up VMware Virtual Machines (legacy backup format)
System Requirements
| Component | Requirement |
| --- | --- |
| Operating system | Windows Server 2008 R2/2012/2012 R2/2016/2019 with Hyper-V role |
| Virtual Environment | vSphere version 6.0 or higher |
vSphere version 5.1 and 5/5 are no longer supported
SCVMM and Failover Cluster are not supported
Generate Backup Agent for VMware
Go to the Downloads page and click Get More to get a list of backup agents: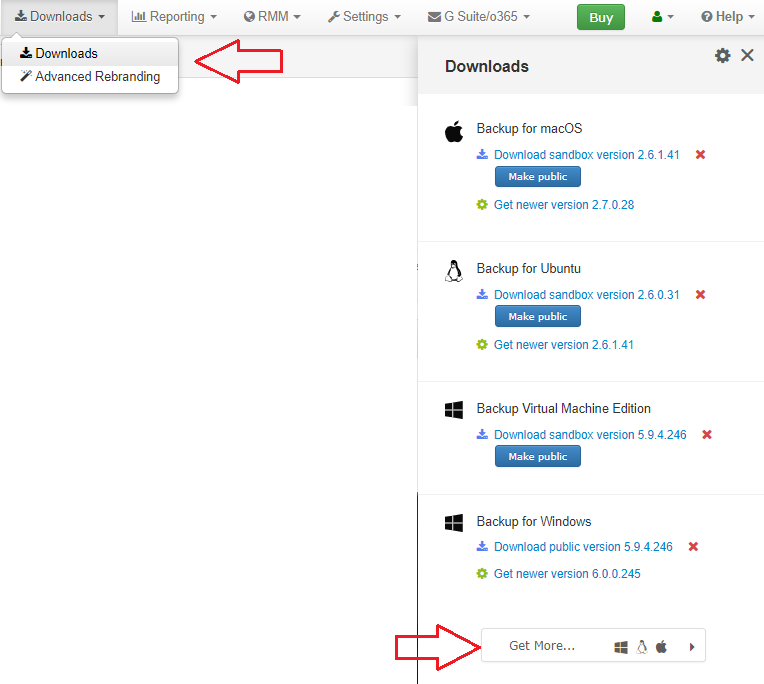 Select the Virtual Machine Edition option and click the "OK" button.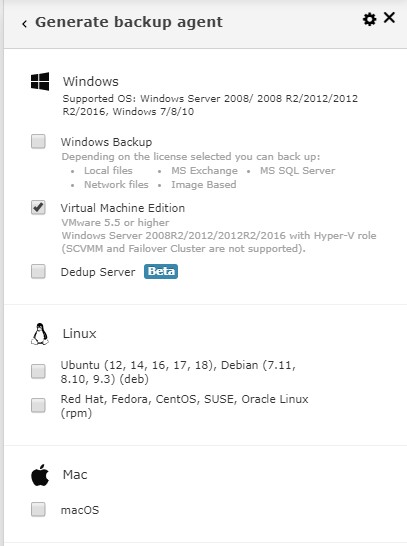 Wait until the requested build is prepared.
When the build is ready, you will be able to see it in the Downloads panel as sandbox build.
To make a the Backup Agent for VMware accessible to your customers, click Make public.
After you have made the build public, your customers will be able to download it.
Licensing
We offer two types of licenses for the Virtual Machine Edition - use the "Buy Licenses" button to purchase:
Virtual Machine Edition license - a main license, it includes 2 Processor Sockets
Virtual Machine Socket license - an additional license, includes 1 Processor Socket
Note: You always need Virtual Machine Edition license before you can get additional sockets
For example, if you have vCenter server with two hosts with 2 processor sockets per each (i.e. 4 in total), you will need 1 Virtual Machine Edition + 2 Virtual Machine Socket licenses.
Back up VMware Virtual Machines
Managed Backup supports backup and restore of virtual machines that created and controlled by ESXi server which is a part of VMware vSphere product. Therefore as the target for a backup it will be nesessary to specify vCenter or ESXi Host.
Step 1. Click on the "Backup VMware" on the toolbar to start the VMware Backup Wizard.

Step 2. Select a storage where you want to back up your VMware machines.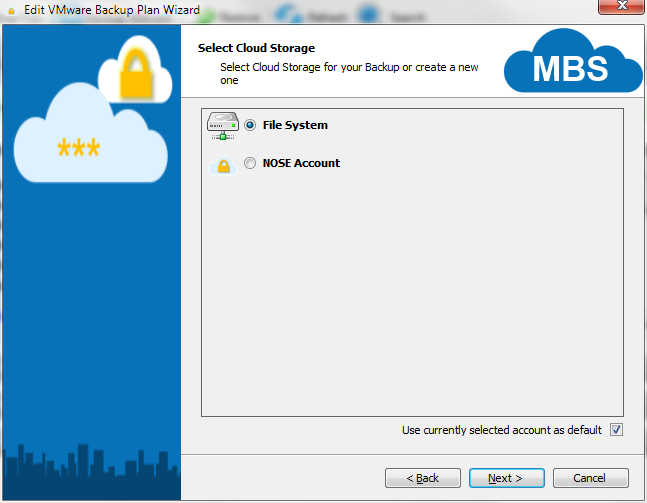 Step 3. Name your backup plan.
Step 4. Select "VMware Host Server" you want to back up and specify login and password for access. It can be vCenter or ESXi Host and you can use IP address or machine/host name. If the target which you chose is vCenter then a list of hosts from the server will be requested, and the host can be selected from the list.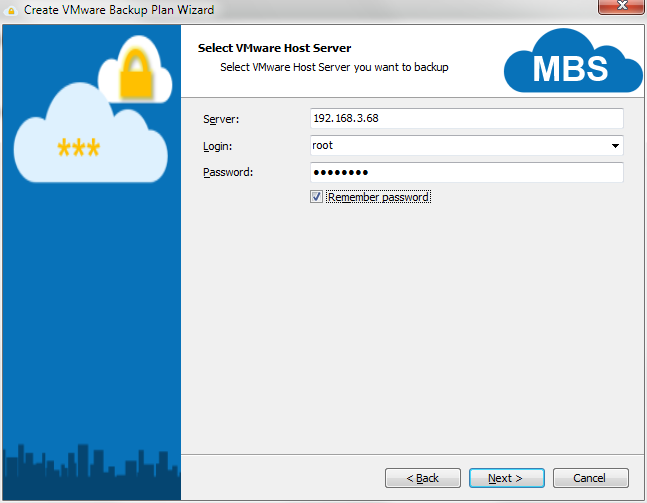 Step 5. Choose the virtual machines to back up. Provided are three options:
Back up all Virtual Machines - initiates backup of all virtual machines on selected host.
Back up all only running Virtual Machines - initiates backup only of running machines on selected host. The stopped and not started virtual machines will be skipped.
Back up selected Virtual Machines - allows to select virtual machine(s) from the list to back up.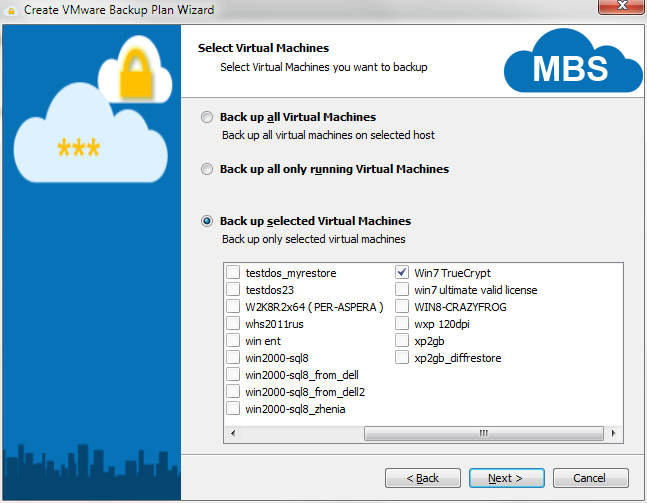 Step 6. Specify Compression and Encryption options.
Step 7. Set up Purge options.
Step 8. Specify the Schedule. Here you can select one of the predefined schedule templates or set up a custom schedule.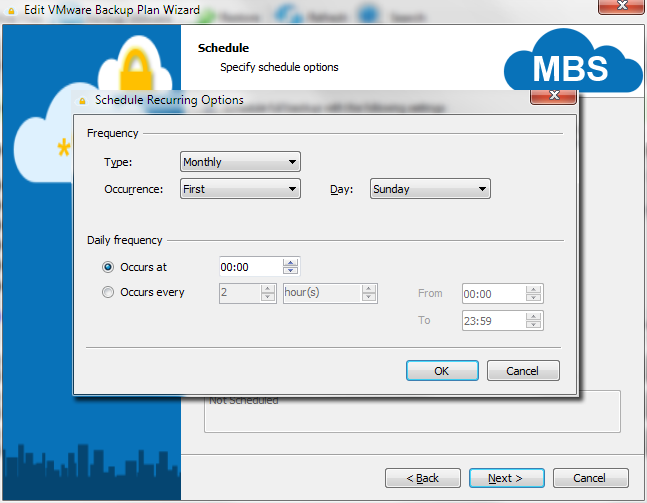 Step 9. Specify the Full Backup Schedule options. Due to a block-level backup usage, it is strongly recommended to run a full backup periodically. Otherwise you will not be able to purge out of date versions (differential backups) because of their dependency on an initial full backup.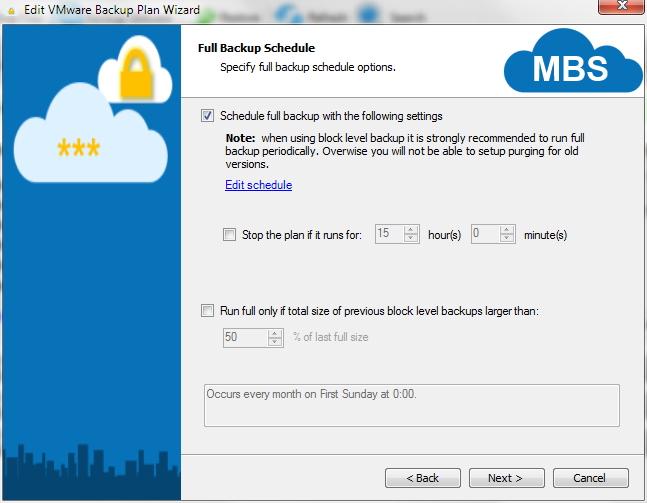 Note that block-level feature applies to files with a size more than 1 Mb due to a block size limitations
Step 10. Specify Pre/Post commands you want to be executed before and/or after the backup completes.
Step 11. Set up notifications.
Step 12. Review a Summary and finish the Backup Wizard.