Manage Licenses
Managed Backup is distributed on a per-instance basis. In other words, each instance must be assigned a license to access Managed Backup services. If your IT environment consists of multiple computers, each computer requires a separate license.
Licenses can be purchased in bulk and thereby shape a global pool or they can be purchased in separate transactions that can be matched with particular companies.
Refer to the chapters below for step-by-step instructions:
Manage and Purchase Licenses
If you already have some trial or commercial licenses, check their expiry dates/renewal status to figure out if you need to purchase some more licenses.
To view and purchase licenses, proceed as follows:
Open the Management Console.
In the Organization menu, select the Licenses item.
Use the search box or filters above the grid to select the required license category. The following filters are available:

Company. Displays the licenses used for the selected company. Click All to clear the filter
Commercial/Trial. Filters the trial or commercial licenses to display. Click the required category to apply the filter
All/Valid/Expired. Filters the valid (active) or expired licenses to display. To clear the filter, click All
All/Used/Unused (applicable to commercial licenses). Filters the licenses assigned or not assigned to a specific computer or domain to display. To clear the filter, click All
All/Auto-Renew Only. Filters all or the licenses with enabled Auto-Renewal feature to display

In case the number of licenses of one type is more than 1, they are grouped by the type. To view the license list, expand the group by clicking on it.
Calculate how many licenses you need (if you do not need any, skip this and the next step), then click Buy New Licenses.
In the corresponding fields, specify the required number of licenses to purchase, then click Buy and proceed to payment. You can also add Premium Support and/or Onboarding service to keep your service organized.
Note: if you do not have any license of a specific type, you will be informed with the appropriate notification: You have not purchased licenses of this type
Note: Remember that you can select the billing period (Monthly or Annual) within the first purchase only. Later this setting cannot be changed

Note: Backup Agents for Linux requires a Desktop/Server license
Group Actions with Licenses
You can manage licenses in bulk by selecting the required ones and applying the same action to the selection. To do this, proceed as follows:
In the Organization menu, select Licenses.
Expand the required license type, then select the licenses to apply the group action.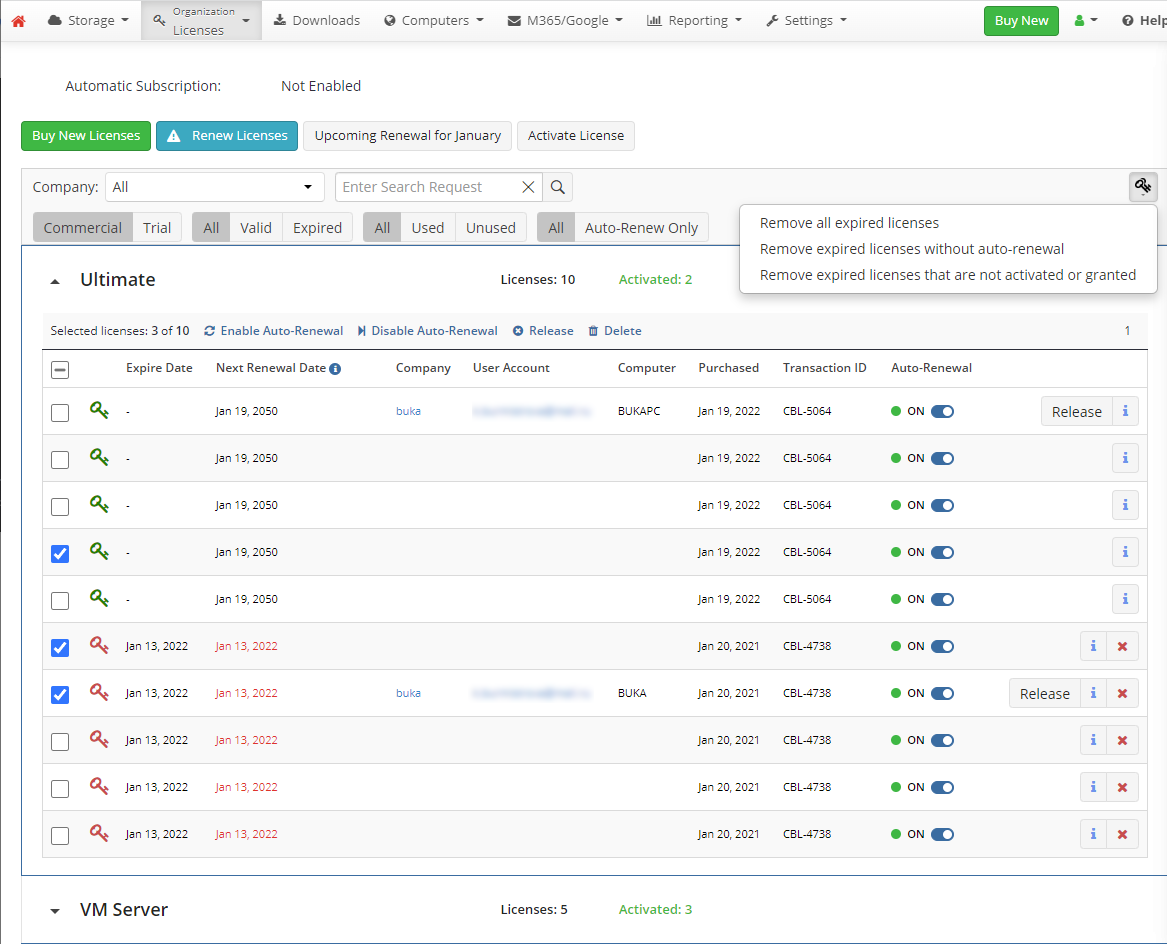 Select the group action to apply to the selection. The following group actions are available:
Enable Auto-Renewal
Disable Auto-Renewal
Release
Delete
Also you can use group actions button for the following group actions:
Remove all expired licenses
Remove all expired licenses without auto-renewal
Remove all expired licenses that are not activated or granted