Create Bootable USB
For full bare-metal restore, you need to create a bootable USB using Backup Agent. You can create this bootable USB on any machine where your MSP360 build is installed. Consider, the bootable USB will contain a pre-boot environment only. Backup data for restore will be retrieved from backup storage specified in your image-based backup plan for the image you are planning to restore. To create a bootable USB, proceed as follows:
Open the Backup Agent.
On the Backup Storage tab check whether the storage account associated with backup storage containing the image-based backup you want to restore is added and set to the right backup prefix to access necessary backup data during restore. You can perform these operations later, but this could be inconvenient in the pre-boot environment.
Plug the USB device you want to use as bootable.
Note that all information from this device will be permanently removed, so it is strongly recommended to back up all your data from the device to avoid losing any valuable data
Run the Backup Agent, click Make Bootable USB.
In the Create Recovery Disk dialog, specify the recovery disk format. Bootable USB and ISO image are available.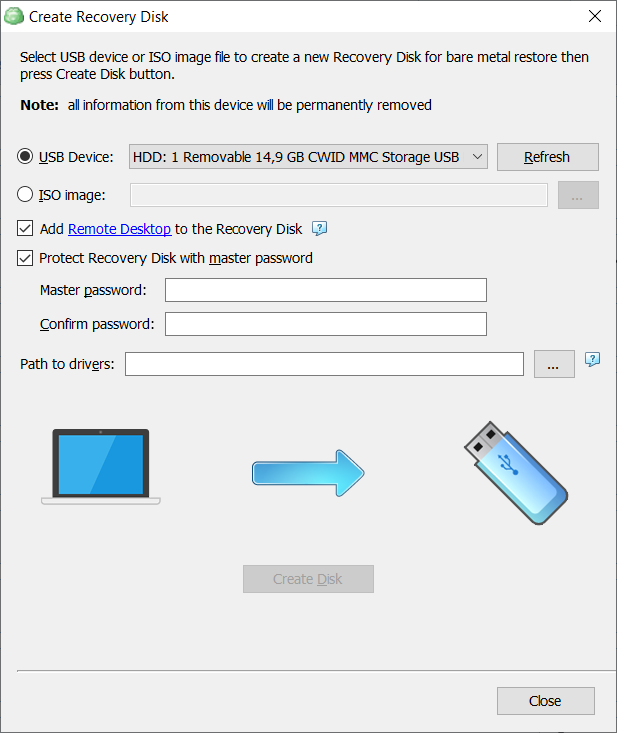 Select Add Remote Desktop to the Recovery check box to add the Remote Desktop application to the recovery disk.
To protect a recovery disk with a master password for security reasons, select the Protect Recovery Disk with master password check box, then specify the password. It is recommended to create strong passwords and keep them in a safe place.
In case you have some specific hardware that requires specific drivers, copy them to a separate folder, then specify it in the Path to drivers field.
Click Create Disk.
Once USB creation is completed click Close. Your USB device contains the folder called Boot.