Creating Bootable ISO Image File
To create a Bootable ISO image, proceed as follows:
Run the Backup Agent.
On the Backup Storage tab check whether the storage account associated with backup storage containing the image-based backup you want to restore is added and set to the right backup prefix to access necessary backup data during restore. You can perform these operations later, but this could be inconvenient in the pre-boot environment.
In the horizontal Home menu, click Create Bootable USB.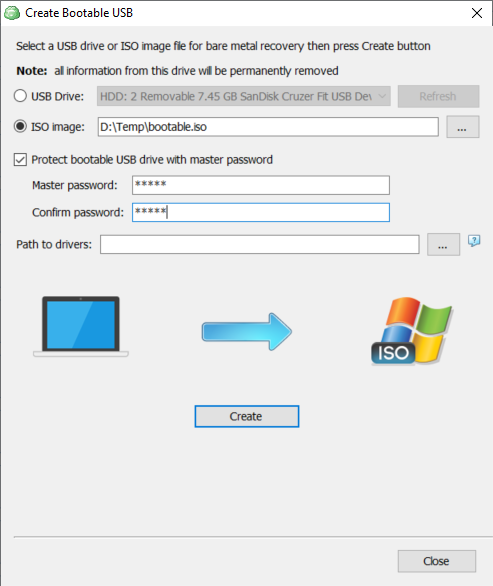 In the dialog box, select ISO image, then specify a full path to the ISO image file to create, then click Create.
Note: You may also add specific drivers to the bootable ISO image. Specify the path to the folder that contains the drivers in the Path to drivers field
To protect a recovery tool with a master password for security reasons, select the Protect bootable USB drive with master password check box, then specify the password. It is recommended to create strong passwords and keep them in a safe place.
Once the ISO image file is created, click Close.
Now you can use this ISO image to recover your system on another physical or virtual machine by mounting it as an external drive.