In-Session Options (Web Browser)
To manage the established connection, use the menu on the top of the screen.
in case of multiple monitors on a remote computer, this menu has the motitor switch.

The following actions are available:
You can pin or unpin the menu with the pin button

Use CTRL+ Alt+Delete to access the following menu:

Lock. Stops others from accessing a computer until the user signs back in.
Switch User. Enables another user to use the computer without closing all applications and windows of the current user. These remain open in a suspended state -- not visible to the new user -- for when they switch back to the previous user.
Sign Out. Signs the user out of their account; closes all applications windows.
Change Password. Enables user to change password when using an offline account on their PC. Can't reset forgotten passwords here, however, as the user must know the current one to change it.
Task Manager. Brings up the Task Manager Windows tool for managing the running of the applications, processes and services.

You can control remote microphone to communicate with remote user. Turn the microphone on, by default it is turned off.
You can control remote sound. Turn the sound on and use slider to control it

You can create chat with the remote user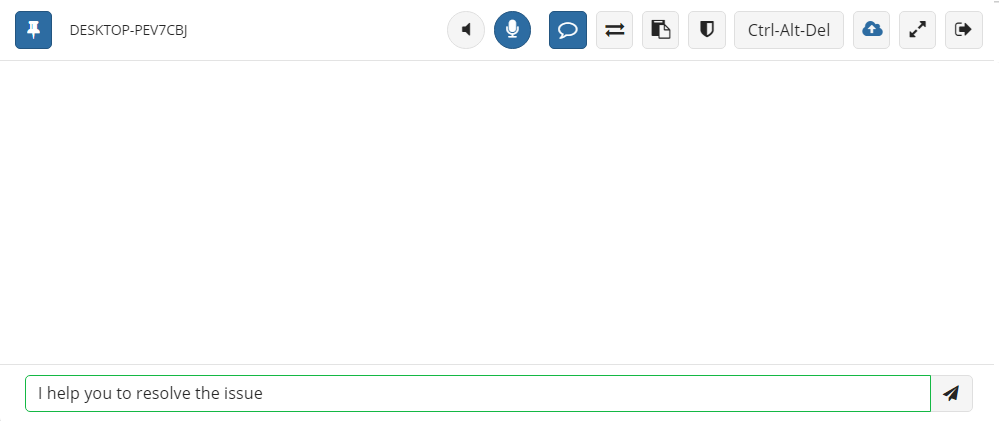 You can toggle to full-screen mode. To exit full screen mode, click Esc.

To transfer files from remote computer and vice versa, you can use file transfer feature

You can paste required texts and/or password on remote computer to the place you select by the cursor. This is possible even if clipboard sharing is not enabled. The only consideration is the keyboard language on the remote computer should be the same.

You can start the Backup Agent on the remote computer, if the agent is installed on it, to manage backup or restore plans

You can control screen and input devices on the remote computer. The following options are available:

Show black screen. The black screen on the remote computer ensure that nobody on the other side cannot see your work.
Block input devices. This will ensure that nobody on the other side cannot intervene with your work.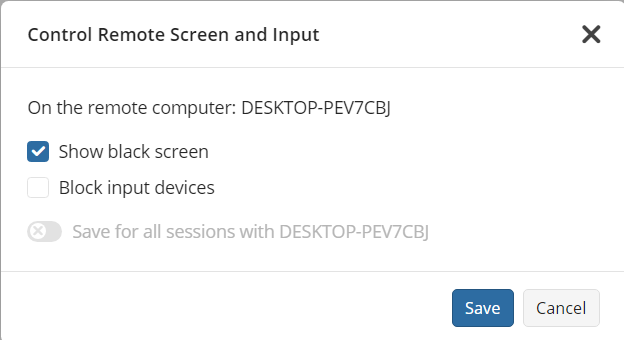 In case of the remote computer uses multiple displays, you can swith between these displays to view required content.

You can close the connection.