Turn Computer on Using Wake-on-LAN
As of the RMM Agent 1.6 you can turn managed computer on or wake up from sleep mode, hibernation, or shutdown by means of a different computer on the same network. Wake-on-LAN requires at least one online computer on the same subnet, and Wake-on-LAN must be enabled on the computer you want to wake up.
To wake up the selected computer:
Open the Management Console.
On Computers select Remote Management if you use legacy main menu, or open RMM > Computers page in the new main menu.
In the computer list, find the computer you want to turn on, then in the RMM column click the diagram icon.
On General tab click the Wake-on-LAN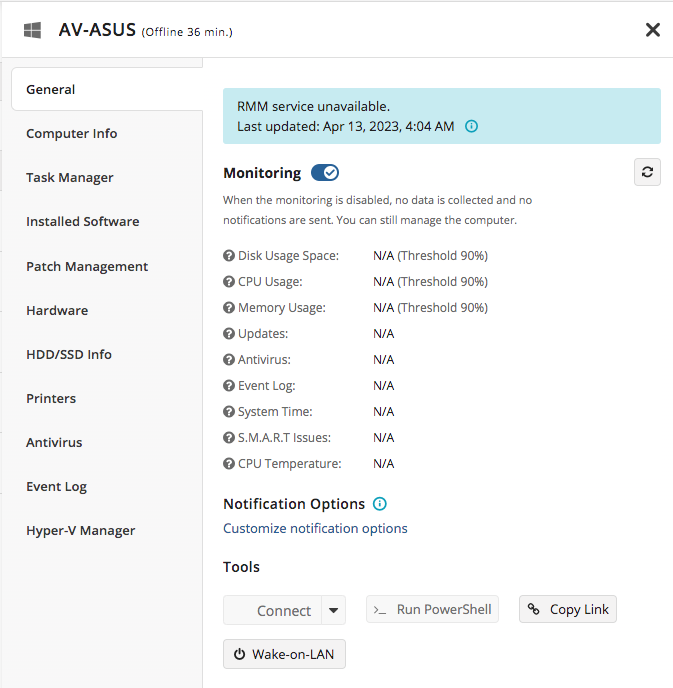 You will be prompted to check whether Wake-on-LAN is enabled in BIOS, and in Networks Adapter section in Device Manager on the remote computer. A dedicated script Check-WakeOnLan is added to RMM Script Library for this purpose.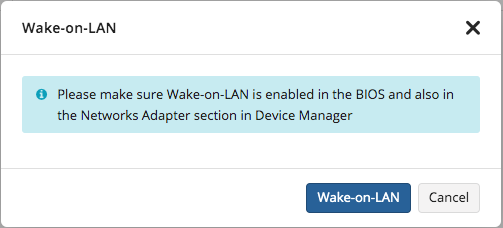 Click the Wake-on-LAN once the feature is available
In case of at least one computer in this subnet is online, the magic package will be sent to wake up the computer.